As the year wraps up, here's my own list of things I liked the most on television this year.
Key caveats: I obviously haven't watched everything, so this is not "my favorite out of all the things," just "my favorite out of the things I've gotten to." Also, since the pandemic has made time weird anyways, I've simply embraced the logic of things appearing on this list if I watched them this year, regardless of whether they're older than that or not. And while I've been trying to watch a lot of non-American stuff, and hope to report back with a post about those shows later, I'm not far enough along in most of them to include them here yet.
Alphabetically:

Adventure Time (Cartoon Network / also available on Hulu)
I'd seen a season or two of this earlier, when it won a Peabody in 2015, but in an effort to steer my daughter away from watching yet more Wizards of Waverly Place, I introduced her to the show recently and we've been burning through it. What a great show: funny, smart, and thoughtful, with some of the best voice work in the business and wild animation that brings the scripts alive with panache.
The Baby-Sitters Club (Netflix)
My daughter, wife, and I burned through this in about two days. It's a stellar adaptation that captures a lot of what's excellent, endearing, and important about the books (and graphic novel adaptations) but that updates in cool ways. Excellent performances, nice chemistry, and overall it's on this list because I appreciate how rare it is for something of this quality aimed at (or at least open to) girls in the 7-12 age range (so much of the work goes into preschool television and teen television, with the inbetween age having to suffer under the reign of terror of crappy paint-by-numbers Disney live action sitcoms).
Better Things (FX)
I've sung this show's praises before, but it keeps being excellent. The most recent season, indeed, shifts gears impressively as each character transitions into a different life stage. I love how it's composed, too, as no episode is ever just about one thing, thereby capturing how all the peaks and troughs of parenting inevitably come in otherwise full days with other mundane things that need to happen.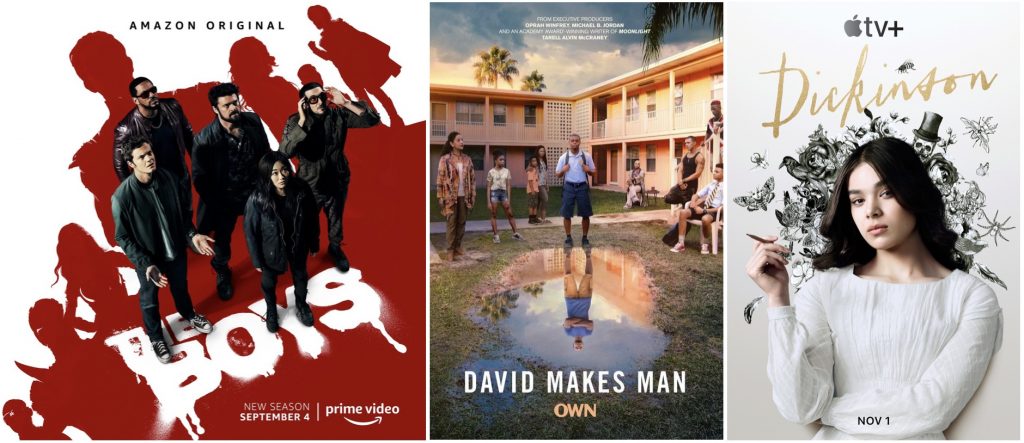 The Boys (Amazon)
This story about an alternate Justice League of America abusing their power(s) has a lot to it, starting with Antony Starr's absolutely menacing Homelander. I love the concept of considering what a living nightmare unchecked, corporatized superheroes would actually be like, and I like Season 2's addition of the Nazi Stormfront. Plus, it deserves extra points for excessive Billy Joel song usage. Granted, it's got problems: Karl Urban is at best okay, at worst bad in it; the ultra-violence is regularly ultra-unnecessary, and it bends its own logic too often. But it was fun while saying things and doing a good job of providing an antidote to Marvel's wet dream of techno-corporatism that is Tony Stark.
David Makes Man (OWN)
Going into Peabody judging early in 2020, I hadn't even heard of this coming-of-age drama about an African American teen struggling with all the expectations placed on him. But it jumped out immediately. Hailing from Tarell Alvin McCraney, it has some of the beautiful filming and at times tone of his Moonlight, anchored by a superb performance from Akili McDowell (and probably Phylicia Rashad's best performance). It soulfully explores the pressures of code-switching, and even when it finds itself traveling some potentially trope- and stereotype-laden pathways, it always seems to ascend above them.
Dickinson (Apple+)
Here's another show I hadn't heard of before the Peabody judging, but since Lorraine Ali reviewed it very well, I checked it out. It crackles fun and life. A contemporary-ish telling of Emily Dickinson's life, it's still set in her time, but the soundtrack, dancing, modes of talking, and much more can all push gleefully into anachronism. Hailee Steinfeld is excellent as the eponymous figure, throwing herself into the seriousness of the poet, even while the show around her finds the comedy, joy, and play to tonally complement and contrast with her performance in ways that make the show feel so fresh and different.

The Great (Hulu)
I loved The Great's savaging of the period drama's love affair with monarchy and the aristocracy. The self-dubbed "occasionally true" story of Catherine the Great is really fun, with a fresh, vibrant, anachronistic-but-who-cares approach that is somewhat reminiscent of Dickinson, but I appreciate its underlying, relentless assault on rich people from centuries past as petty, debauched sociopaths, not beautiful nobility. Quite aside from that, though, Nicholas Hoult's Peter III is reason enough to watch this, as he nails almost every single line, a comedy supernova who offers arguably the best comic performance of the year. Huzzah!
How To With John Wilson (HBO)
This docuseries is hard to describe. Each episode takes a different "how to" and follows it through, but very loosely. All the while, a remarkable collection of images of New York (and other venues) play, often offering ironic contrast to the voiceover, but in total providing a beautiful valentine to New York City. Some of the humor is very dad joke-y, but it sets its frame up as low-rent, and thus allows itself free rein. The show is surprisingly deep as a result of this. It's quirky as heck, but adorable.
I May Destroy You (HBO)
I must admit that I've not finished this story about a woman trying to find out what happened when she was sexually assaulted, but it's very compelling. I'll also admit I wasn't much of a Michaela Coel fan coming into it, finding her overacting in Chewing Gum and Black Earth Rising annoying. But she's excellent in this, dialing down the overacting and instead showing great range in moving from subtlety to her character's bold, energized way of being. The style matches that character, too, dancing between gravity and vibrancy with deft skill. As said, I'm not done with it yet, but I'm enjoying how well composed it is, and how each character is gaining depth and context in unpredictable ways.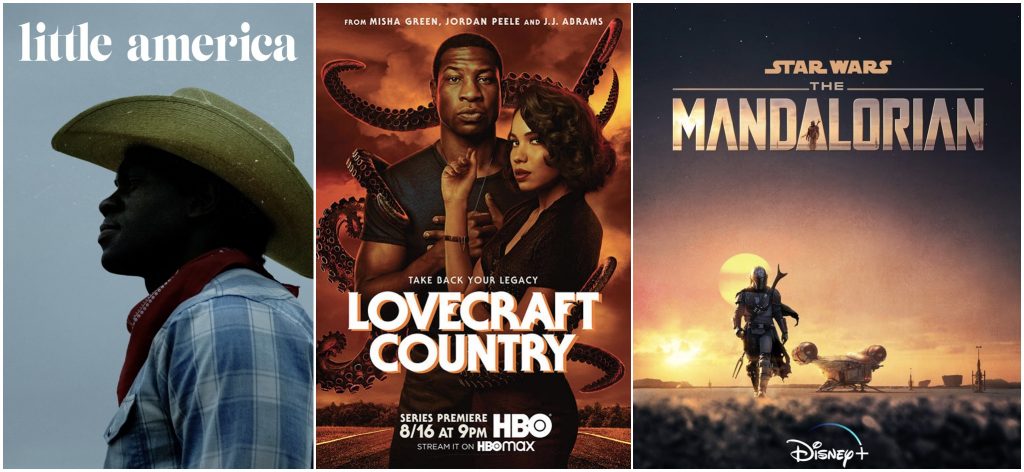 Little America (Apple+)
Another show I haven't finished, but it's superb. I've long taught about media and national identity, and long been interested in media about migrant experiences, having therefore watched more than enough to know how hard it is to balance storytelling with soapboxing on this topic. These stories walk a lovely balancing wire, always caring deeply about character and nuance in ways that do the talking that thus isn't needed in anguished monologues. Apple+ jumped out of the gates with an incoherent strategy that included a lot of crap and mediocrity, but for any of you with a free year due to buying a new device, watch Dickinson and watch Little America, as both are masterful.
Lovecraft Country (HBO)
There's a lot going on in Lovecraft Country, as it charts an (over?)-ambitious course through multiple sub-genres of horror and sci-fi, and I often found it hard to keep up, needing instead to hope that I'd work it all out later while not always doing so. But in truth I loved that, since it meant it was always doing things, and I've rarely enjoyed the ride of a show as much as this one. And I appreciate its ranging attitude towards at times interrogating those sub-genres from an African American perspective, at times "simply" trying to insert African Americans into them, at times completely deconstructing and reconstructing them in the process. The result was an impressive step forward for horror.
The Mandalorian (Disney+)
A nice shout-back to the 70s/80s action-adventure television genre that is fun each and every week. The appearances of some old friends and one of the coolest space ships in the Star Wars galaxy added even more, as did a great slew of guest actors (from Timothy Olyphant to Rosario Dawson). "Fan service" is often supposed to be a criticism, but The Mandalorian found great ways to give, yes, lots and lots of fan service, but always while still telling good stories. Baby Yoda's cute and all, but kudos to the team for never needing to rest on his ample ears. This is the way.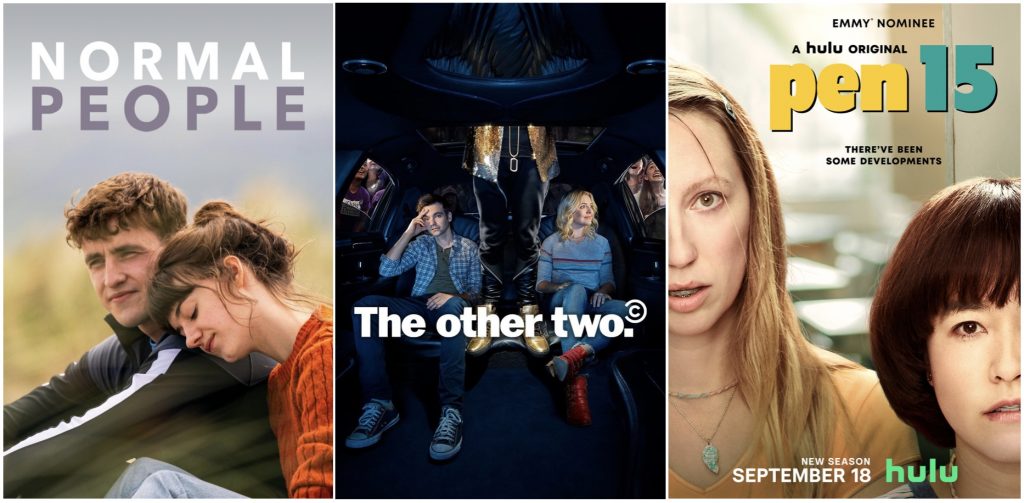 Normal People (Element / BBC3 / Hulu)
I've not finished this tale of a young couple's love across years, but it's so beautifully filmed and told. Hulu's description of it as "exquisite" struck me as over-reaching before I started watching, but it's an aptly used word. Sublime performances work hand in hand with a script that trusts its actors, its director, and itself. The pacing is excellent, too, giving me some of the time I need to let it all sit with me, not just waiting till after I've watched (though I think about it then too). One of the best romances I've seen on screen, equal parts devastating and devastatingly beautiful.
The Other Two (Comedy Central)
This sitcom about the older brother and sister of a teen pop star ("Chase Dreams") is really funny. Very silly, and never really taking itself seriously in the least, but quite a comic engine, running along at speed so the humor rolls at speed too. Regularly over-the-top and gloriously so.
Pen15 (Hulu)
I adored Season 1 of this show that sees 33 year-olds Maya Erskine and Anna Konkle star as middle-schoolers surrounded by an otherwise accurately aged cast. That premise risks being gimmicky, but I loved how Season 1 used it not just for the easy (if not less hilarious) laughs offered by allowing adult women delve into the grotesquerie of adolescence, but also to demand more care for and thought about its characters' struggles than is usually allotted characters of that age (especially relative to the boys who regularly command more of that care and thought). There's also a cool reinforcing of the central characters' bond of friendship produced by 33 year-olds playing them. Season 2 doesn't disappoint, providing more of the same, and thus offering me a rare media mix of carnivalesque potty humor and surprisingly thoughtful treatment of adolescence.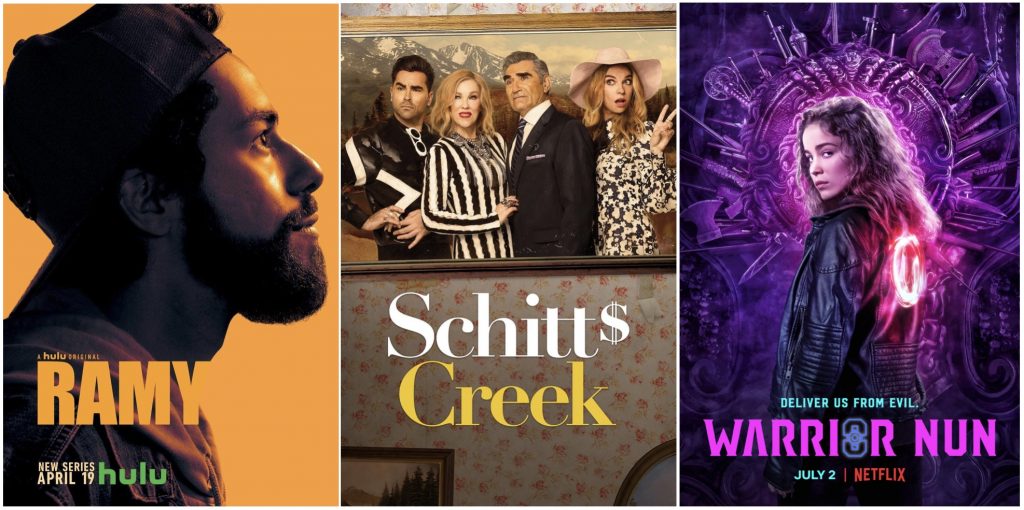 Ramy (Hulu)
I haven't seen Season 2 yet, and Season 1 was from 2019 but I didn't get around to it till early 2020. It had a barrier to entry in the form of Ramy's uncle, who is too broad and stereotyped and gets in the way of the first episode or two. But once he steps to the side and we see more of Ramy, his sister, and his mother, the story about a young Muslim American rockets upwards in quality. Several episodes stand out, with the 9/11 flashback episode wrapped up awkwardly yet deviously with a tale about masturbation, and the real masterpiece being an episode about his mother's work as a Lyft driver – probably the best single episode of television I watched in 2020.
Schitt's Creek (CBC / Netflix)
I tried this show before. The opening premise, of a rich family who "lose everything" and end up in a backwater Ontario town starting over, didn't help, as it always seemed too Green Acres, too likely to produce broad guffaws not much more. But so many people I respect told me to try it again, so one week, my wife and I burned through Season 1. And got hooked. It moves to such a lovely place, with caring characters whose searing sarcasm never subsides but somehow envelopes their warmth instead of vacating it. So it's endearing, but also very funny. In the great tradition of charming Canadian stories about little towns, it jumps to the head of the pack.
Warrior Nun (Netflix)
The show's obvious parallels to Buffy the Vampire Slayer announce themselves pretty quickly – a fated demon slayer must work with a bookish father figure and some ass-kicking peers to save the world from that which spews from the Hellmouth. And surely it brings some of what Buffy did, in winning characters struggling with their youthful lives, and some excellent action adventure along the way. But it's also fresh enough, even if only through being filmed in Spain with a non-Californian cast. It's hard to work in this realm of outlandish premise while caring about real life struggles, of having lots of fun while wanting to be serious at times, but Warrior Nun succeeds handily.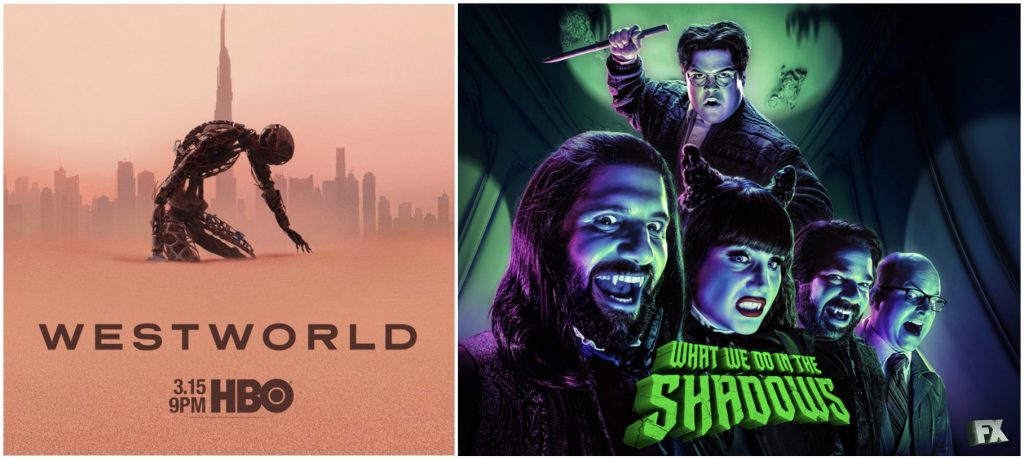 Westworld (HBO)
Almost everyone I know who has watched this dislikes it. And I get their concerns: it can indeed be complex and confusing, perhaps it does take itself too seriously, perhaps it does at times need to have more fun than it does. But I still love it. Season 3 leaves the titular park and instead finds itself in a futuristic LA that oozes style (Blade Runner with the lights turned on). Indeed, I just loved looking at this show, and Ramin Djawadi's score is great too, very Vangelis while being original enough. So even though I often didn't know what the heck was happening, Thandie Newton, Tessa Thompson, and Evan Rachel Wood are all killing it, with beautiful backdrops and some of the best music and sound design in television, so it was still very much one of my happy places.
What We Do in the Shadows (FX)
Damn, this is funny. Much of the humor is basic and so seemingly stupid that it should probably be awful. Yet, the cast and the spirit with which they and everyone else involved handles that humor make it so joyful, fun, and hilarious. These days, a show usually has to be "doing" and "saying" something (whether political, philosophical, or representational) for me to rate it highly, and I struggle to think of anything too substantive that What We Do in the Shadows is doing or saying in this regard, but oh my gosh is it so funny and hence still so deserving of rounding out this list.