This is part of a series, offered in time for the Northern hemisphere's summer of 2023. I thought I'd roll through the various streaming services that I have, and list some of the TV shows I like there. The idea is to give guidance for a quick subscription – if you're going to get the free trial, maybe add a month or two, then get out, what should you watch? I haven't seen everything, of course, nor do I wish to, and I'm an individual with particular tastes and bents, so this isn't "the best of" any platform: it's simply a list of the shows I'd recommend.
Now we hit a long list, if only because Hulu is also home for FX's shows, several of which are some of the best things not just on Hulu but on any platform. Hulu is an interesting streamer, given its non-existence in many countries (I'll guess many of these are on Disney+ outside the US?) yet its austerity as a streamer in the US, originally a clearing house for several networks before they all got either gobbled up or wanted their own service. Netflix enjoys the Kleenex / Hoover / Coke brand-name-as-generic-name position in the streaming market, but making this list reminded me how much Hulu really has a lot of the stuff I love most. I'll start with the best in class, then turn to the rest:
Love Love Love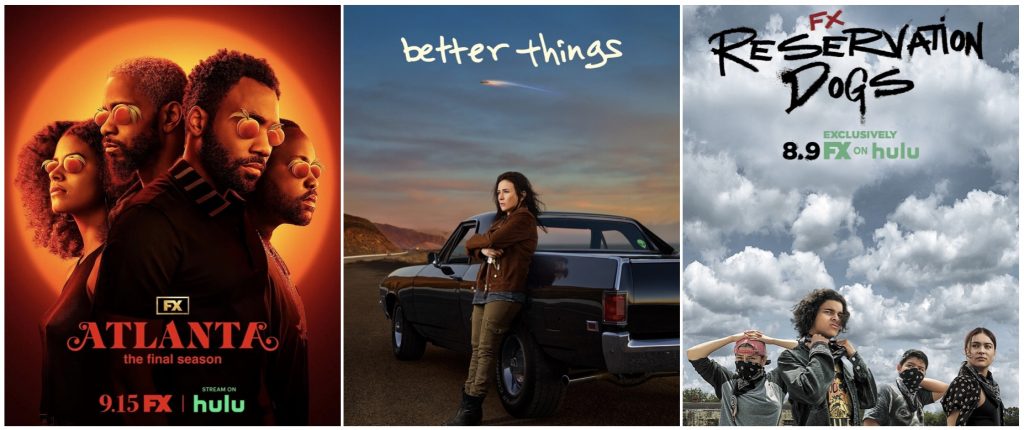 Atlanta (2016-2022) is loosely about a rapper (Brian Tyree Henry) and his friends (Donald Glover, LaKeith Stanfield, Zazie Beetz). But it's hard to describe beyond that, because it's both one of the most fun shows I've seen and one of the smartest, yet either of those descriptors often indicates a lack of the other. Throughout its four brilliant seasons, I never knew exactly what to expect in any given episode. It veers from comedy to horror and back again in the blink of an eye, one episode can be uproariously fun and funny while the next will be deeply soulful, and even the key cast aren't guaranteed to appear in any episode, as Seasons 3 and 4 especially became fond of going elsewhere. It's formally inventive but never in a pretentious, inaccessible way. Its comedy can be silly or searingly satiric. It's regularly saying all sorts of things about race (and in Season 3, especially about whiteness) that don't get said by many other shows. The characters and performances are excellent. It's just a really damn good show.
Better Things (2016-2022) is similarly superb. Pamela Adlon stars as Sam Fox, raising her three daughters (Mikey Madison, Hannah Alligood, and Olivia Edward) alone. I'm not a binger by nature, but will regularly watch other half-hour shows two or three at a time, yet I always staunchly refused to watch more than one episode of Better Things at a time. Each had so much in it, and I love this show so much, that it seemed reckless to speed through what could and should be savored. The best show I know about parenting, and one that only gets better as Pamela Adlon and her fellow writers aged the children, I love that at base it gets that parenting must always be done alongside other things, so those other things, challenges, ups, downs, and mundanities are packed around the parenting. Each season has its own foci and interests, too, so it's never "just" more of the same. Alongside my other two favorites here, it's amazing fleet-footed in being able to put seriousness and comedy, depth and fun, into a fervid mix.
Reservation Dogs (2021- ) is about four indigenous teens on a reservation in Oklahoma, dealing with the loss of a close friend. It had an amazing freshman season, such that it seemed doomed to stutter as a sophomore, but instead it got even better. Like Atlanta, it benefits from being willing to examine the cast at large, not just its central four characters, but oh my what a wonderful central four they are, and I love that Season 2 gives us more of Cheese (Lane Factor) and Willie Jack (Paulina Alexis) after centering Season 1 on Bear (D'Pharaoh Woon-A-Tai) and Elora Danan (K. Devery Jacobs). The Leftovers may be the only other show I've seen that has handled loss so movingly and beautifully (I challenge you not to be destroyed by ep.204, "Mabel"), yet somehow Reservation Dogs still finds ways to infuse all sorts of comedy and light. Most of all it's so fresh, further proof that diversifying who makes TV and who its stories are about can so often lead to stunning originality.
Regular Love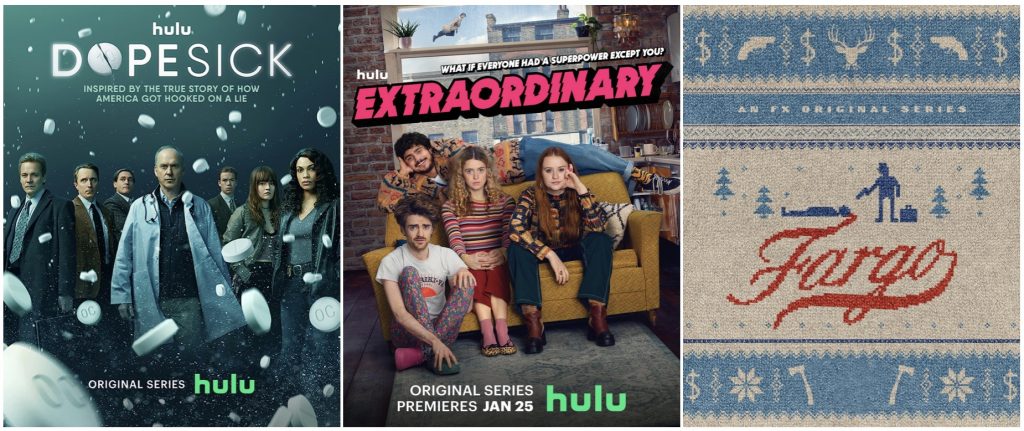 Depending on how you look at it, Dopesick (2021) was either exactly what I shouldn't have watched or exactly what I should have watched a year and half ago just before needing a lot of pain meds. A miniseries about the opioid crisis, it's a great way both of getting up to speed on what the Sacklers and Purdue Pharma did to create it, and of seeing some of the human costs up close. Strong performances abound, especially from Michael Keaton, Michael Stuhlburg as Richard Sackler, and the always superb Kaitlyn Dever. It's not happy watching, though, so don't go to it for uplift: it'll make you angry, and dead worried about taking Oxy.
Extraordinary (2023- ) is hardly amazing, but it's really good fun. A British sitcom, it's set in a world in which almost everyone develops a superpower, some of which are really cool, some of which are utterly, laughably mundane or odd. Our lead, Máiréad Tyers, however, hasn't (yet?) gotten her superpower. It's a fun premise that gives the writers carte blanche for creating all sorts of absurdities and silliness, but Tyers and her human cat Jizzlord (yes, that's his name. Luke Rollason) add sweetness too.
Fargo (2014- ) had no business being this good. The movie was excellent, and so seemingly unique in its quirkiness that I remember thinking (despite not being an "ugh. Don't remake things" kinda guy) that the television show would be a mess. But Season 1 does a wonderful job of capturing the dark comedy folk tale aspect and attitude of the film, and the subsequent seasons have followed up on that. I struggle to think of a show with a casting department who are so amazing, both at counter-type casting (see Martin Freeman in s.1), and at reviving all sorts of careers (see Kirsten Dunst, Kieran Culkin, Jean Smart, Ewan McGregor, …). It's dark fun, and I like how it's found an interesting space between serial and anthology.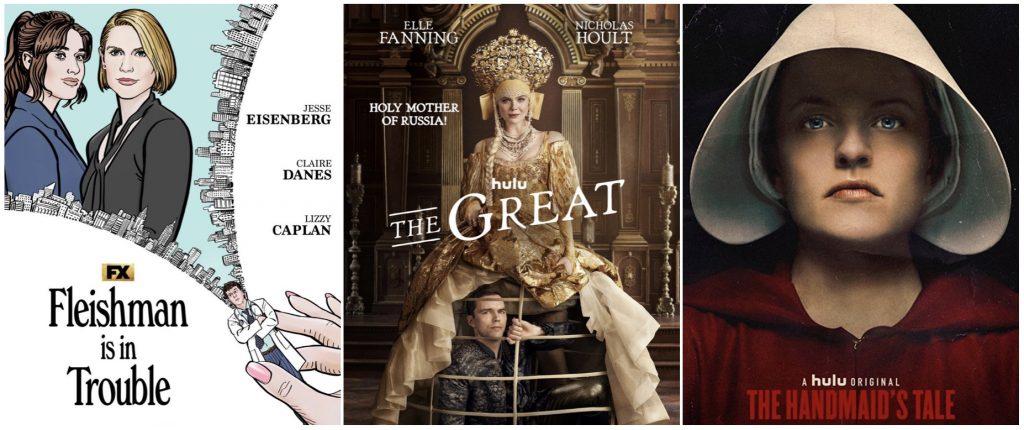 Fleishman is in Trouble (2022) is quite a watch. Adapted from Taffy Brodesser-Akner's book of the same name, the miniseries starts in the wake of Toby and Rachel Fleishman's (Jesse Eisenberg and Claire Danes) divorce, till Rachel disappears, leaving Toby with the kids alone. I haven't looked, but I imagine some viewers have found the show rather misogynist in its apparent siding with Toby, but that's tempered in part by Lizzy Caplan providing the not-so-simple narration, in part by later focus on Rachel, and I appreciated seeing a story that allowed room for the dad to be the more involved parent. The show has twists and turns, its characters more layers than you see at first, and rests on really strong performances, Caplan almost stealing it.
The Great (2020- ) is so much fun. Elle Fanning and Nicholas Hault are Catherine the Great and Emperor Peter III. Sort of. Like Dickinson, or creator Tony McNamara's The Favourite, this is playing with history, offering a very contemporary spin on the characters. Fanning does a good job, but Hault absolutely runs away with it, offering one of TV's best comic performances: almost every single line of his is golden. You can see why (spoiler alert) they decide not to have Peter killed after all. At times it's all "just" fun (and honestly, that's entirely enough), but at times Catherine's interest in democratizing Russia, and her discomfort with Peter and his court's barbarism and aristocratic dysfunctionality, make for all sorts of social commentary.
The Handmaid's Tale (2017- ), by contrast, is grueling. Indeed, I've never known a show that so many friends have told me they watched but stopped because it was too hard to continue. Springboarding from Margaret Atwood's novel, the show is set in Gilead, a future USA run by theocrats who've turned some of the last remaining fertile women into "handmaid" servants given to aristocratic families. It all hits a little too close to the mark in an era in which the Supreme Court and GOP are teaming up to kill women's rights over their bodies, but that makes it important, cutthroat satire and social commentary. Lead Elisabeth Moss proves her mettle yet again as one of television's best actors.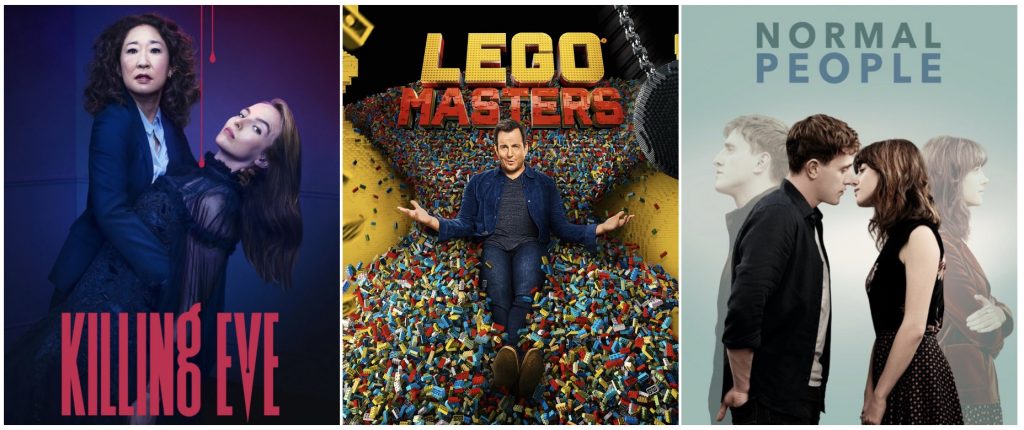 Killing Eve (2018-2022) has a great first season, but it devolved thereafter, so my recommendation here is that you watch that first season, then stop. Jodie Comer is amazing as our messed up spy serial killer, Sandra Oh solid as her counterpart tasked with finding her. It's refreshing to see a spy show with women at the center, and women with so much more depth: granted, having more depth than someone called Pussy Galore, Honey Ryder, or Xenia Onatopp ain't hard, but Killing Eve's women clear that very low bar by miles.
Lego Masters (2020- ) is an outstanding competition series, especially for the whole family. As the title suggests, it's all about LEGO building, with pairs of contestants tasked with huge, ambitious builds each week. I like how it regularly ends up feeling more like a kid's reality show, where contestants like each other and support each other, not one in which casting has ensured they become mortal enemies. The LEGO builds are amazing and great fun to see happening. Will Arnett does a solid job as the host, corny, yes, but it keeps the tone light and playful (super-serious Phil or Jeff he is not).
Normal People (2020) is pretty devastating, but also beautiful. Daisy Edgar-Jones and Paul Mescal both vaulted into the public eye with this show, since both are utterly brilliant in it. Adapting Sally Rooney's book, this is a study of two friends/partners growing up from teens to twenties. But it's also about the pains of depression and isolation. Please don't binge this: each episode deserves its own time and space, but it can also often be painful watching, so I found that most episodes required recovery time. If that sounds dire, though, it's not, since there's such a stunning emotional realism that dominates the show.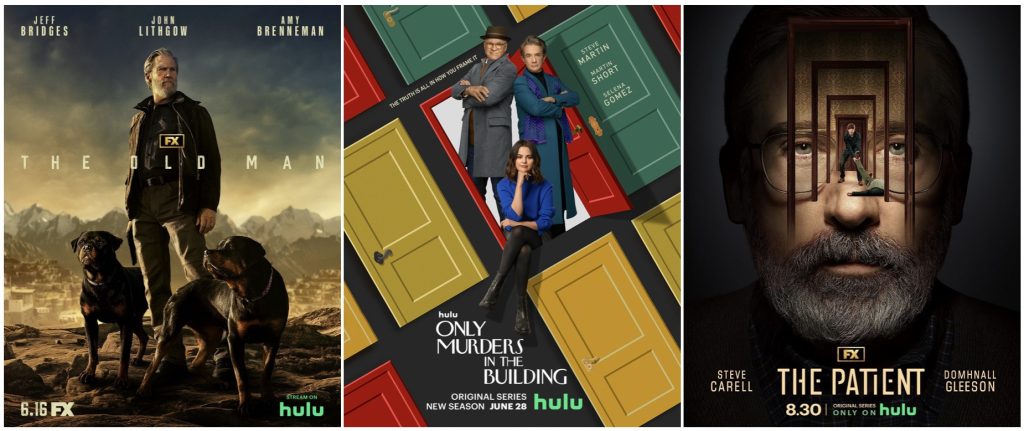 The Old Man (2022- ) is good fun. A spy drama with a killer cast, Jeff Bridges plays a former US operative known for his work in Afghanistan, who is now being hunted down by former friend John Lithgow, with Alia Shawkat and Amy Brenneman playing key roles too (it's best for your enjoyment that I don't try to explain those roles). In true spy drama fashion, all sorts of past missions and intrigue come to the fore along the way. It's really well done, but for the cliffhanger at the end of s.1 (it's not that the cliffhanger is bad: I just wished for an actual conclusion).
Only Murders in the Building (2021- ) is consistently light on its feet in such an endearing way. Steve Martin, Martin Short, and Selena Gomez headline the show about three residents of a New York apartment building who parlay their love for true crime podcasts into sleuthing who killed someone in their building. The dynamics between the three are fun, producing a nice boomer-meets-millennial patter that isn't as cringey as most invocations of either generation, much less of both together, prove to be. I'm a sucker for Steve Martin, so it's great to see him on television, but the writers seem to be having as much fun as him and the rest of the cast, and it shows.
The Patient (2022) may star Steve Carrell, but if you hoped for humor or Michael Scott antics, go no further. Carrell plays a shrink abducted by a man (Domhnall Gleeson, aka General Hux) with homicidal rage who hopes his own prisoner shrink will help him get over said rage. As you might imagine, things don't go especially well. Carrell and Gleeson each put in solid performances, and the show adds depth as it goes along, since Carrell turns to considering the fractured relationship with his son as he stares likely death in the face.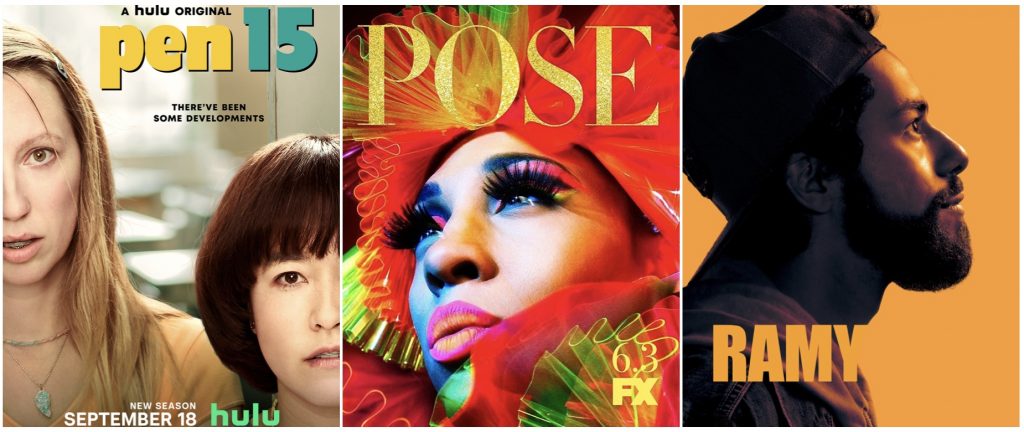 Pen15 (2019-2021) is premised on a gimmick, but goes way beyond it, becoming an often brilliant comedy. Mid-30s creators Maya Erskine and Anna Konkle star as middle schoolers in the early 2000s, with an otherwise age-appropriate cast. That gimmick allows for all sorts of inappropriate humor, but it also allows for a lot of depth at times, as Erskine and Konkle explore the trials and traumas of being 13, and create a charming testament to the importance of friendship at a really crappy time in a person's life.
Pose (2018-2021) (fictionally) follows Paris is Burning in tracking the lives of several queer and trans people of color in late 80s' / early 90s' ballroom scene of New York City. The acting can be iffy at times, but this show has so much heart. I especially like how it will stare the horrors of the HIV crisis and its ravages on this community in the face at one moment, yet revel in the joy and life of the ballroom scene. Melodramatic to the core, but stylized as such, and befitting the setting, the show blows through a bunch of television's representational barriers, and includes an especially strong performance by Billy Porter.
Ramy (2019- ) started so, so well, and I was proud of the Peabody it got when I was still on the Board of Jurors. Ramy Youssef stars in a show about a Muslim American man getting by in New York City. At its early best it could be so funny at times, while also delivering amazing episodes such as "Ne Me Quitte Pas," about his mother (Hiam Abbass) working as a Lyft driver. I'd recommend abandoning it after two seasons, though, as it becomes too much about Ramy as sex-obsessed jerk, and I ended up yearning for any and all episodes and scenes without him, not a good sign. Still, those early seasons are top-notch.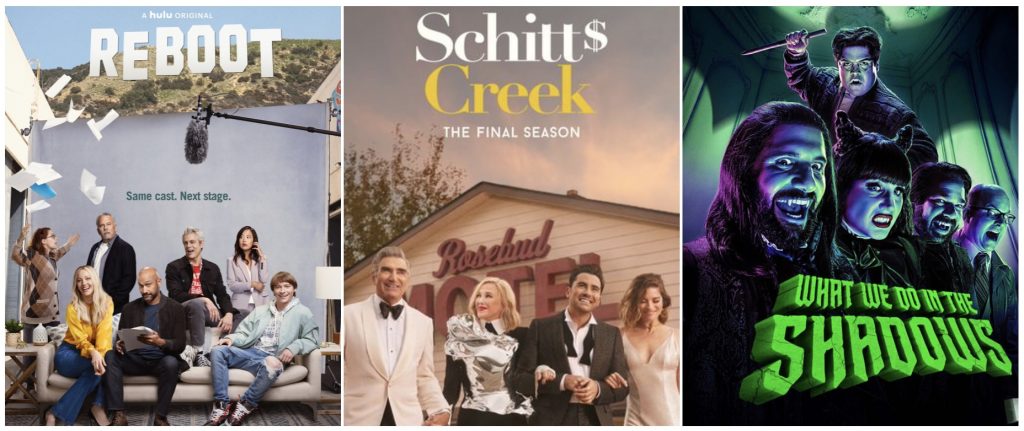 Reboot (2022) has been cancelled, unfortunately, but it makes for easy watching of its lone season. Cat nip for television scholars, it explores the reboot of a clearly awful family sitcom many years later. Rachel Bloom and Paul Reiser are the daughter-father writing team, surrounded by comic gems Fred Melamed, Rose Abdoo, and George Wyner. The actors are good too, with Jackass' Johnny Knoxville providing the most surprising addition to the cast (who knew he could act, not just light his genitals on fire or such?)
Schitt's Creek (2015-2020) begins rather unimpressively, I'll warn, but it really ramps up, eventually becoming one of the very best sitcoms of recent years. Falling on hard financial times, the formerly wealthy Rose family (Eugene Levy, Catherine O'Hara, Annie Murphy, and Dan Levy) move to the very small town of Schitt's Creek. Classic fish-out-of-water material, but it's ultimately a show about accepting and celebrating each other's differences rather than ridiculing them (in good, Canadian small-town dramedy history fashion). The central cast eat up the scenery at every turn, each of them amazing comedians individually yet chemically interacting to provide even more fun.
What We Do in the Shadows (2019- ) jumps off the film's similarly silly premise of following, docu-comedy style, a group of vampires in Staten Island to provide a very funny show. Lead actors Kayvan Novak, Matt Berry, Natasia Demetriou, Harvey Guillén, and Mark Proksch give the Schitt's Creek cast a run for their money as serious competition for best ensemble, with the always excellent Kristen Schaal regularly showing up to add support. There's a style of silly, eye-rolly humor that this show develops into an artform. It's rarely ever "about" anything, but it's so good.
And finally, though I'm focusing on more recent shows, let me end by giving honorable mention to The Americans (2013-2018) and Justified (2010-2015), since if you haven't seen either and you have Hulu, you really need to go away and do your homework.