This is part of a series, offered in time for the Northern hemisphere's summer of 2023. I thought I'd roll through the various streaming services that I have, and list some of the TV shows I like there. The idea is to give guidance for a quick subscription – if you're going to get the free trial, maybe add a month or two, then get out, what should you watch? I haven't seen everything, of course, nor do I wish to, and I'm an individual with particular tastes and bents, so this isn't "the best of" any platform: it's simply a list of the shows I'd recommend.
For Disney+, I thought I'd group things up, into Star Wars, Marvel, and other. If you're not into Star Wars or Marvel, after all, chances are low you'll care about any in those categories, so I'm isolating them … while noting at the top of each category a few that I think hold up even if you've not dived into the franchise in question. Of course, another key reason to have Disney+ is for kids, too, given the platform's treasure trove of animated movies and legion of family sitcoms. I have thoughts about their kids television, but here only mention shows that hold up to adult viewing (even if that's co-viewing with the kiddo(s) in a few cases). And another note: readers not in the US should remember to check out my post on Hulu, since often (but not always) their shows are on Disney+ globally.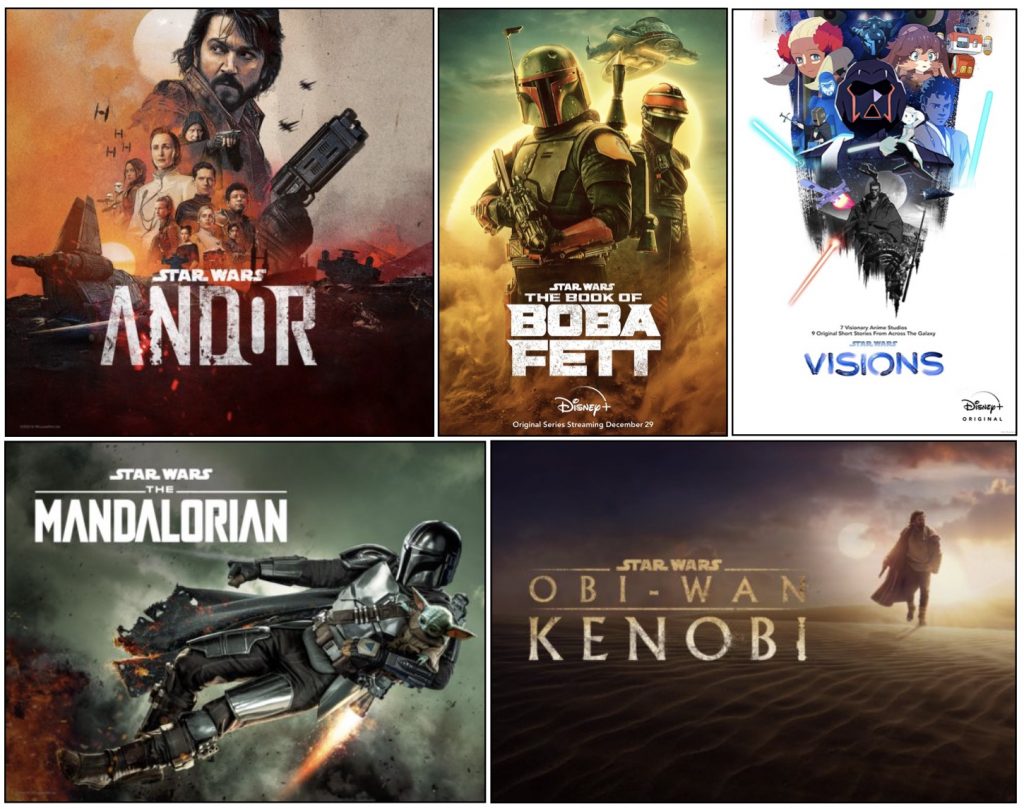 Star Wars
Andor (2022- ) is worth anyone watching. For those who know their galaxy far, far away, this is a prequel to Rogue One, following Cassian Andor, while also exploring the early days of the Rebellion and Mon Mothma's rise. For those who don't, you really don't need to know background, since the characters and stakes are clear enough. It's not an epic with lightsaber battles and huge space battles. Rather, it's about the humans behind rebellions and about the human costs of them. Be warned that it starts slowly, the first two episodes needing the third to set the stakes. But the acting and writing are excellent, and the show really picks up, even giving us theories of power, class, and force. Quite easily the best of the Star Wars shows, adding texture and humanity to a franchise best known for broad strokes.
The Book of Boba Fett (2021-2022) is comparatively slighter, a bit more obvious and craven in its genesis. But, hey, I'm a sucker for Boba Fett, aka the coolest Star Wars toy, so of course I was going to watch. We get to see Fett post-Sarlac (yes, there is a post-Sarlac, something for which you'll need to brace yourself) as he carves out a nobler road ahead. Temuera Morrison and Ming-Na Wen anchor the cast, ensuring it never goes too far astray, and the show's also interesting for its (fleeting) focus on the Tuskens as indigenous peoples. I liked this while watching but remember very little now; still, it's Boba Fett, so there's that.
The Mandalorian (2019- ) has had a lot of ups and downs over its three seasons, as it's oscillated from solid broadcast-era western (in space) with problem-of-the-week, to showing some interest in the broader Star Wars galaxy, to occasional trips into stupidity. Yes, yes, there's Baby Yoda / Grogu, and the rock solid Pedro Pascal. At its best, too, like Andor it gets under the very dusty fingernails of this galaxy's lesser known, everyday folk, and though Andor does it better, Seasons One and Two put flesh on the epic bones of the galaxy. Season Three, though, landed on the planet of "why do I care?", giving us a weak storyline about the poor oppressed, homeless Mandalorians (who fight better than anyone yet I'm meant to believe they were bullied by random frontier people?), and then make things worse with some amazingly dumb episodes. Ups and downs, in short. But Baby Yoda keeps cooing and doing his thing, so it's bearable. Maybe just watch seasons 1 and 2?
Obi-Wan Kenobi (2022) is interesting, inasmuch as the other Star Wars shows mostly need to satisfy themselves with characters we haven't met in the main trilogies, or with marginal, largely unknown figures like Boba Fett or Mon Mothma, yet here we have backstory for Obi-Wan and young Leia. Leia is kidnapped and its Obi-Wan's job to come out of hiding to help get her back. The casting is decent, though: Vivien Lyra Blair is likable as a plucky young Leia, and Ewen McGregor reminds you that Episodes 1-3 were never all bad while he was on screen. The story is interesting, too, and though it ultimately doesn't tell us much we didn't know already (Leia is plucky! Obi-Wan is noble and loyal!), I enjoyed the ride enough to recommend it to fellow Star Wars fans.
I tend not to like the animated Star Wars shows. The style of animation already fails to impress, the characters and voicework are often grating and two-dimensional, and they fall flat compared to even some of the flatter films. Star Wars: Visions (2021- ) is interesting, though. The concept is to hand the galaxy over to a slate of different animators, and let them each tell a different story. Think The Animatrix, if you've seen it. Nobody's allowed to play with main characters, granted, and press reminds you none of this is canonical, but Jedis feature prominently, and since several go Japanese mange in style, we get back to the samurai roots of Jedis in such episodes, which I'm all for. The quality is unpredictable, but they're all short, so if you don't care to know about a Star Wars band story – as I didn't – you can quickly stop it and move to the next one.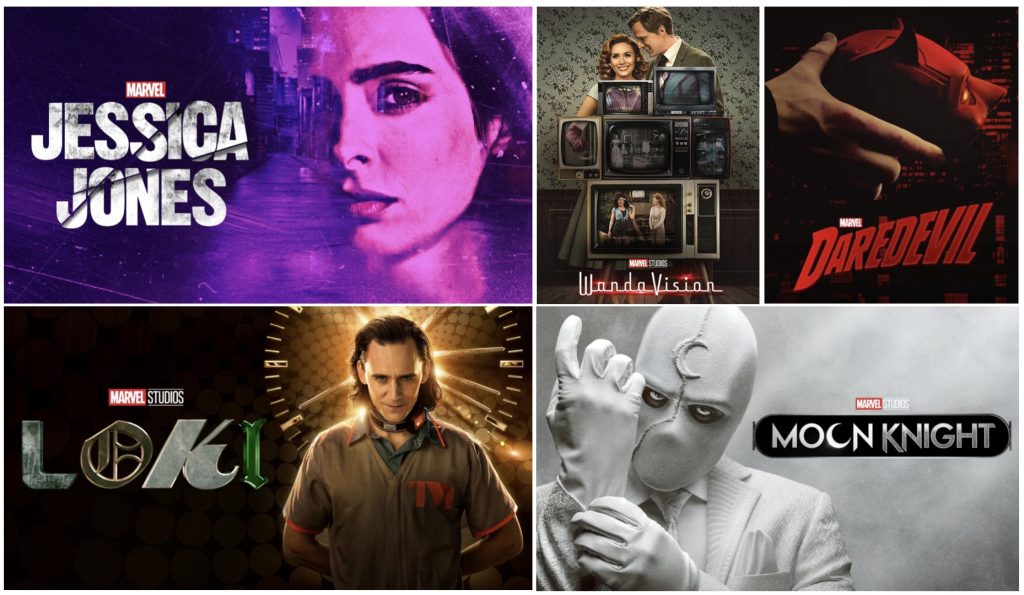 Marvel
Jessica Jones (2015-2019) works regardless of whether you give a damn about Marvel or not. It's ultimately more about abuse and survival than about superheroes. David Tennant's Kilgrave/Purple Man is a true supervillain, given his superpower of making people do what he wants them to. Krysten Ritter's Jessica has superhuman strength and durability, but has been manipulated by Kilgrave and must now face him again. From the formerly-Netflix Daredevil universe focusing on superheroes dealing with neighborhood, not planetary, problems, it's got none of the grandiose scope or ambitions of most Marvel stuff, but is excellent at hitting its spots, with strong performances. Just be prepared for a show all about abuse if you thought it'd be about CGI battles and weird costumes.
WandaVision (2021) is another show that stands up alone for non-Marvel fans, I'd expect. Well, okay, you'll miss some things, but the show kind of talks you through the things that matter. It's a great romp for those who know their eras of American sitcoms, as our key characters seem trapped in a family sitcom that keeps morphing into another family sitcom, while unraveling. Elizabeth Olsen is excellent in a reprisal of sorts of her impressive turn in the almost-completely-unseen Facebook show Sorry for Your Loss, while Kathryn Hahn eats up each scene she's in, earning her own spinoff. There's a lot going on here, from fun parody with the occasional touch of satire, to a story about loss and unraveling.
Daredevil (2015-2018) started the whole Netflix cycle of Marvel shows, and it still holds up as excellent. While the Marvel Cinematic Universe was following larger than life superheroes saving the universe from large than life super villains, Daredevil sets up shop in Hell's Kitchen, keeping its focus on local crime. Its titular superhero is still pretty super – a blind man with superb reflexes and heightened senses-other-than-sight – but I appreciate that it shows the toll of superhero'ing, in the form of poor Matt constantly limping back to his nurse friend to get his endless cavalcade of bruises and cuts seen to. Charlie Cox is charismatic and very watchable as Daredevil.
Loki (2021- ) is whacky, in a good way, and as one should expect from a show centering the god of mischief. Tom Hiddleston brings his smaller role from the movies to a strange, quirky tale of Loki summoned to the Time Variance Authority by savvy bureaucrat Mobius M. Mobius (Owen Wilson) to help set right the timeline he's just messed up. This show really acts as a hinge between the former "Iron Man to Endgame" saga of the MCU and the forthcoming Kang saga (if that's still happening?), but it's just a lot of fun by itself either way. Hiddleston's often struck me as someone who is a little too polished and besotted with his own charisma and looks, … which works perfectly for Loki, making it a great role for him. The supporting cast all hit their spots, too, though, whether those spots be to pass off bureaucrat or yet another Loki variant.
Moon Knight (2022) is another show that has a lot of fun. Oscar Isaac must take on the multiple personalities (and accents) of the titular figure, all in an adventure ranging from the British Museum to ancient Egypt to modern Egypt. I really liked Moon Knight way back as a teen reading comics, and so I wished I could've seen a bit more of him here, a bit less of Isaac, though Isaac does a solid job with a really hard role (or set of roles). True to Disney+'s interest in giving each of its show a different genre, this is part-adventure, part-psychological puzzle film.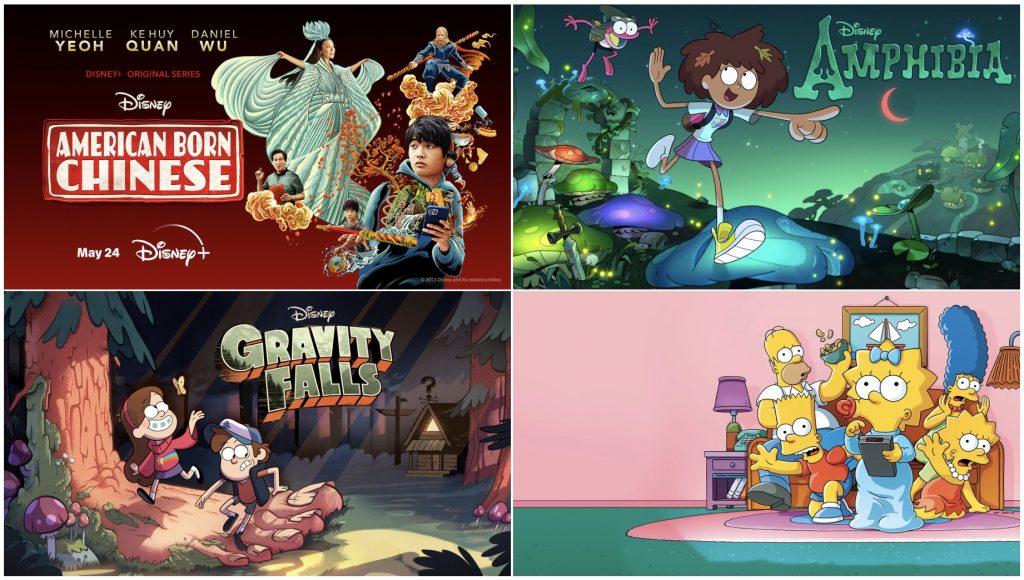 Not Star Wars, Not Marvel
American Born Chinese (2023- ) is the most recent show on this list, an ambitious adaptation of Gene Luen Yang's graphic novel. Ben Wang and Jimmy Liu are infinitely likable as the two high school students at the center of the plot, the latter of whom who has just joined the former's high school, fronting as an exchange student but in reality a key player in a battle of Chinese mythology. In the background, there's a reunion of Everything Everywhere All at Once, with Michelle Yeoh, Ke Huy Quan, Stephanie Hsu, and James Hong all appearing, especially the first two. It's an interesting generic mix, as Disney aims for the high school audience and the older ones, and sometimes misjudges, but in general I'm really liking it.
Amphibia (2019-2022) is an excellent animated series that my daughter discovered, but I really enjoyed watching with her, and I don't think it requires a kid co-viewer to make it work. Anne Boonchuy and her two best friends are transported into Amphibia, a world full of talking amphibians. There, she's taken in by a frog family – the Plantars – who help her try to get back home, while saving Amphibia. It's funny, soulful, and in Season 2 has an interesting pivot to considering Anne and her family's identity as Thai-Americans. I really appreciate the (complex) friendships at the core, too, especially those between Anne and her besties.
Gravity Falls (2012-2016) is one of the best animated series ever created, in my humble opinion. There's a smart serial narrative running underneath the whole thing, but on the surface it's a really, really funny show from Alex Hirsch. Jason Ritter and Kristen Schaal offer up pitch-perfect voice performances as twins Dipper and Mabel, sent for the summer to their uncle's place in Gravity Falls, Oregon (think Twin Peaks meets Springfield). Strange things lead them to try and solve the multiple mysteries of the place. If you haven't seen Gravity Falls, you really should.
The Simpsons (1989- ) is reason enough to have Disney+, even though it inexplicably lies in the shadow of the MCU and Star Wars. At this point, though, surely you've seen it. Hasn't everyone seen some? And if not, that alone is sign of a sad world headed for a mass extinction event. But chances are you saw it a long time ago now, so go back to Springfield and revisit some of the best characters created for TV in the medium's history.