This is part of a series, offered in time for the Northern hemisphere's summer of 2023. I thought I'd roll through the various streaming services that I have, and list some of the TV shows I like there. The idea is to give guidance for a quick subscription – if you're going to get the free trial, maybe add a month or two, then get out, what should you watch? I haven't seen everything, of course, nor do I wish to, and I'm an individual with particular tastes and bents, so this isn't "the best of" any platform: it's simply a list of the shows I'd recommend.
Max (formerly HBO Max) has a lot of great stuff from the HBO vault. I'll stick with shows that have been in active production in the last 5/6 years, though, since by now surely you've heard of The Wire, Deadwood, and so. That said, annoyingly Max has also gotten rid of shows, so I can't sell you on the wonders of Westworld. I have a lot of shows to cover here, nonetheless, so I'll say a bit less about some this time.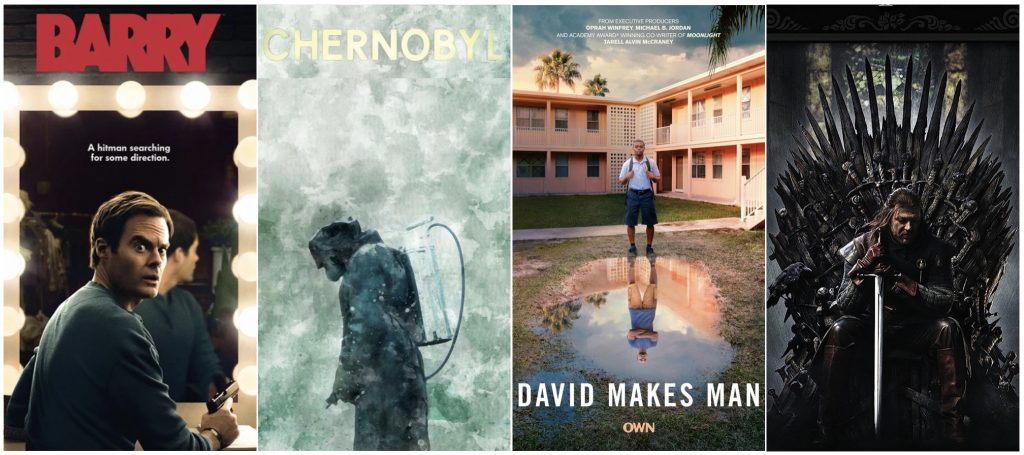 Barry (2018-2023) starts with the fun premise of a hired assassin deciding he wants to reinvent himself as an actor. The show is regularly very funny, with Anthony Carrigan's Chechen mafia and would-be influencer NoHo Hank and Henry Winkler's pretentious acting instructor Gene Cousinea leading the way. The show struggles a bit, though, with working out whether it wants to bathe in blood like The Boys or sit in judgment, and this leads to a pretty lousy final season, but before then it's fun, and especially savage when setting its sights on acting clinics.
Chernobyl (2019) is pretty darn amazing. Who needs Don't Look Up! to scare us into worrying how politicians would handle a massive disaster if it didn't suit their PR narrative when we have a real, harrowing story? Filmed with great skill, with some of the best sound design in television history, it's gripping from start to finish, and the performances all keep pace.
David Makes Man (2019- ) is surely in the top 10 of great shows about which next to nobody seems to know. From OWN, it follows a teen boy from the projects dealing with the death of a friend as he gets sent off to a fancier school. From Tarell Alvin McCraney, it is often filmed with Moonlight-esque beauty, and Akili McDowell offers a superb performance as David.
Game of Thrones (2011-2019) surely needs little introduction. Big, epic, great cast, lots of deaths, stupid ending. You know the deal.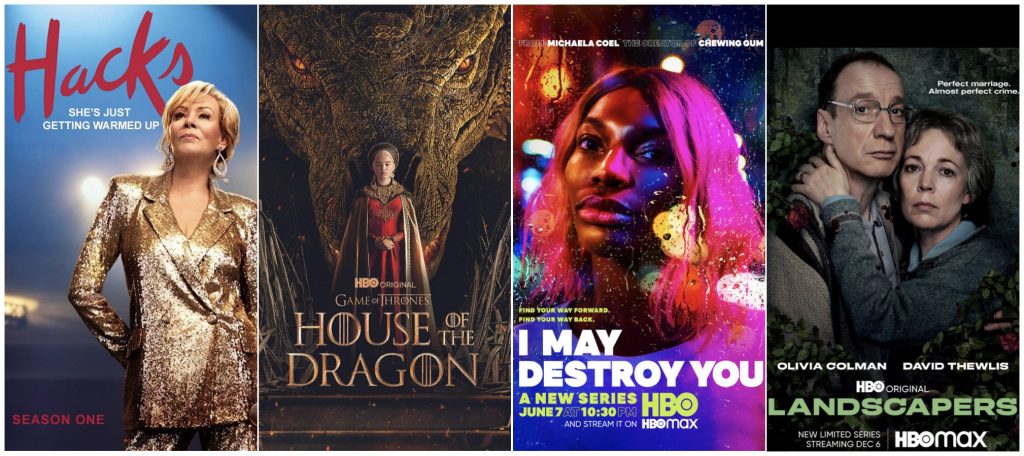 Hacks (2021- ) began with the wise realization that Jean Smart needed to be on our screens more. Smart plays Deborah Vance, a stand-up comedy legend in seeming permanent resident in Vegas who finds herself needing to change up her act, hiring young writer Ava (Hannah Einbinder) to do so. This pairs well with Only Murders in the Building for fun and loving cross-generational humor/hijinx, but it's mostly just a treat to watch Smart set up shop.
House of the Dragon (2022- ) is the distant prequel to Game of Thrones. I'm ambivalent about including it here, since some of the characterization put me in fits (especially when they skip a decade or so but don't think about how anyone would've grown) and few shows that I watch make my eyes roll as frequently, and yet like GoT somehow I still watch.
I May Destroy You (2020) is the best show I've seen about rape and rape culture. Well, "best" makes it sound fun, and it's not – it's searing and hard to watch, but very powerful. I should admit that I really didn't like Michaela Coel in previous outings (too hamfisted), but this is powerful television, and she deserves much of the credit (though Paapa Essiedu is excellent too).
Landscapers (2021) has really stuck with me. The always on-point David Thewlis and Olivia Colman play real-life murderers William and Patricia Wycherley. What the show does so well is get us inside their joint head, with their shared obsessions, fandoms, and delusions. Its tone is thus really unique, dancing between playful, goofy, bizarre, and seriously disturbing. Just four episodes, each entirely worth it.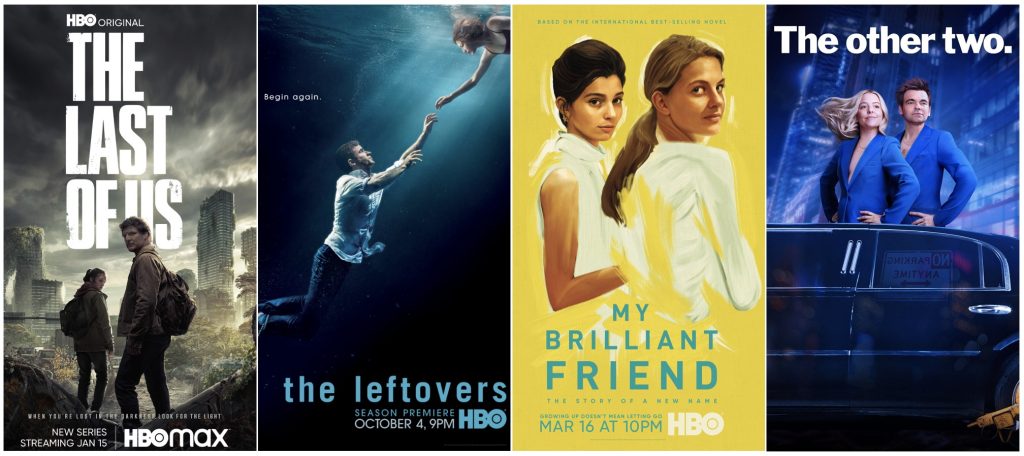 The Last of Us (2023- ) was one of my favorite videogames, its sequel even more so, so I had high expectations. It met and surpassed them. Set years after the onset of a zombiefying fungal infection has swept the world, it follows on from Station Eleven (see below) as an often-beautiful show about what we (need to) hold onto in a pandemic. It's also the perfect case study in how an adaptation can hold so true to the original, often slavishingly so, while also going new places and doing new things. That Nick Offerman episode (ep. 3) is so good in particular. I'm just interested to see if they follow the second game to the letter now.
The Leftovers (2014-2017) also belongs in a troika with The Last of Us and Station Eleven, not set post-"pandemic" per se, but after an unknown incident automatically wipes out 2% of the world's population. Our characters, led by Justin Theroux, Carrie Coon, and (in s.2) Regina King all at peak (which is a thing to behold in and of itself), are left reeling along with the planet, working out how to mourn, how to continue, what to do in the face of this chaos, and more. Please don't binge this, since it's a sad show, about loss, resilience, and not knowing, but it's atheist TV at its very best, with a killer finale.
My Brilliant Friend (2018- ) is a lovely show that's flown under too many radars (or at least it was. I've only seen s.1). Starting with two young Italian girls, the show explores their lifelong friendship. As the Bechdel Test would tell you, that's rare enough, and so it's so refreshing to see a show all about women's friendships that doesn't reduce those friendship to Sex and the City style antics. Charming, soulful, and excellent.
The Other Two (2019- ) is one of the better true comedies (ie: a comedy that is entirely comic) around these days. Chase Dreams is a Bieber-esque teen star singer, and in time his mother also rises to fame as Midwestern everywoman talkshow host. But the show's about "the other two," Chase's adult siblings who can't seem to get their lives together. Heléne Yorke, Drew Tarver, Molly Shannon, and Ken Marino work with a super-crisp script full of great parody, satire, and silliness.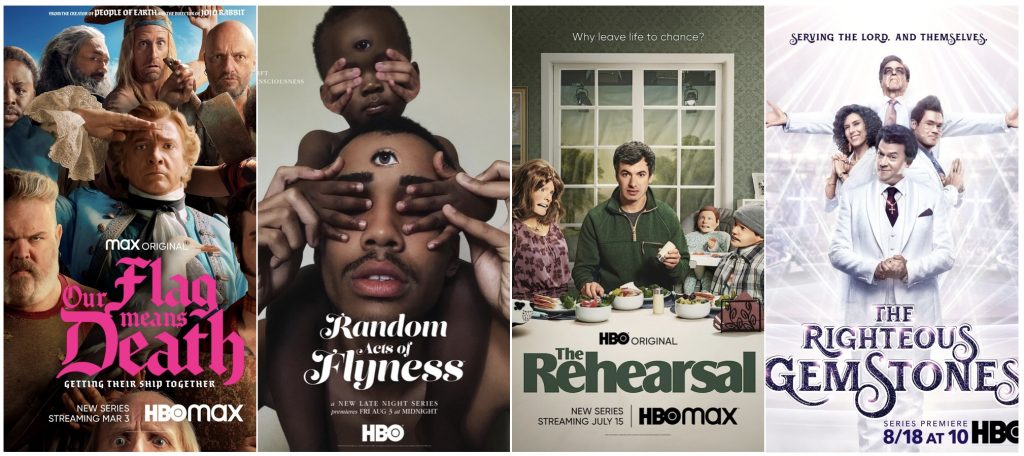 Our Flag Means Death (2022- ), aka The Gay Pirate Show, brings Murray, ace PR man and New Zealand consulate from Flight of the Conchords, back into a starring role, with Taika Waititi eventually joining the cast. The pilot, I'll warn, is pretty low rent and stupid, and it's only everyone's love for the show that kept me going, but it picks up thereafter, especially once Waititi arrives (as Blackbeard). Very silly humor, but touching and cute.
Random Acts of Flyness (2018- ), by contrast, peddles in some of the smartest humor you'll see, sometimes too smart for me, as I'm left in its dust. Part sketch show, part rambling (meant non-pejoratively) discussion and contemplation of a range of issues mostly surrounding racism in America, it's utterly unique and all the better for it.
The Rehearsal (2022- ) will blow your mind if you let it. Nathan Fielder of Nathan for You is back with a much more ambitious show. It starts nominally with the idea that everyday social interactions that we find hard could be improved if we rehearsed them, but that it ends up a long way away from that jumping-off point. By the end, it's ruminated on the politics and ethics of reality television, of parenting, of reality, and much more. It's very hard to describe, except to say it's a wild ride and I loved that I never knew where it was going.
The Righteous Gemstones (2019- ) follows a dysfunctional family running an evangelical megachurch. It could be better, if the writers were willing to commit to real satire. Instead, each of seasons 1 and 2 just devolved into a lot of Apatow / Farrelly Bros. style humor. That said, they do that style of humor better than most, and since the satire pokes its head through occasionally, it can still be strong.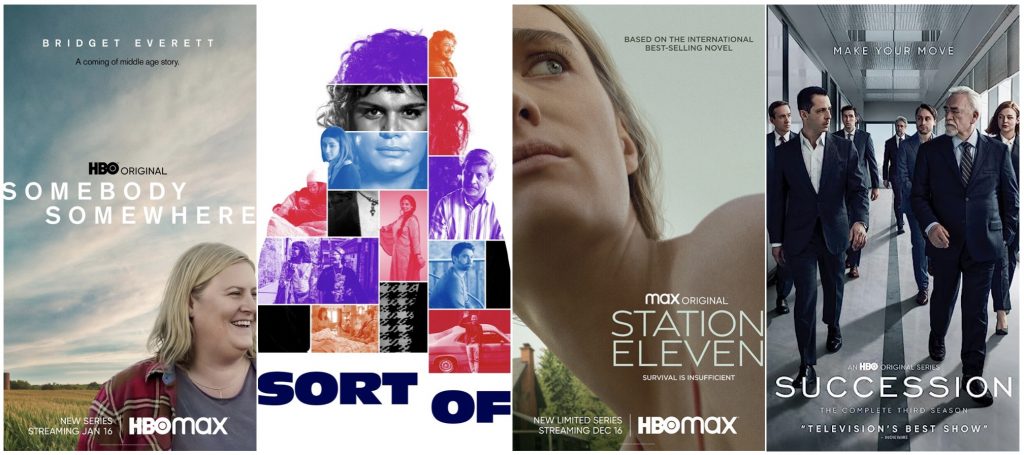 Somebody Somewhere (2022- ) blew me away in its first season, though I haven't caught up with its second yet. Sam (Bridget Everett) is back home in smalltown Kansas, following the death of her sister, and somehow she needs to come to terms with her parents and the town. Jeff Hiller's Joel is a rod of compassion, joy, and life, helping a show that otherwise might be too subtle and quiet for its own good (it's not, though). I really like these characters and highly recommend the show.
Sort Of (2021- ) is a CBC import, starring Bilal Baig as Sabi Mehboob, a first-gen non-binary Pakistani Canadian. As above, I haven't gotten to s.2 yet, but s.1 is superb. When you read that premise, you could expect a pretty heavy-handed show leading with Big Issues, but it scintillates as a comedy and character study. Baig also captures a generation rarely depicted well on television, so they're doing amazing representational work in a really winning, charming show.
Station Eleven (2021-2022) has a premise designed to worry any of, well, the planet: a pandemic has swept through the world, killing a huge proportion of people at speed. Yet years later our lead character, played by the always excellent Mackenzie Davis, is part of a theater troupe travelling the Midwest putting on Shakespeare plays as a way of holding onto some of what otherwise would be lost. And ultimately the show is about what we hold onto, what matters, and how it matters. A really beautiful story that isn't the pandemic narrative you'd expect.
Succession (2018-2023) fandom sometimes worries me, since a lot of people seem honestly to identify with different characters, when they are all really bad. And that's the point. This is a case study in how to do a great dramedy: the drama is crisp and addictive, the comedy never far away. The trio of Kieran Culkin, Matthew Macfayden, and Nicholas Braun, are all at peak, guaranteeing endless hilarity. But the satire of American wealth and power is, for all its Veep­-like jauntiness, unforgiving and scathing. It's also just a really well filmed and put together show.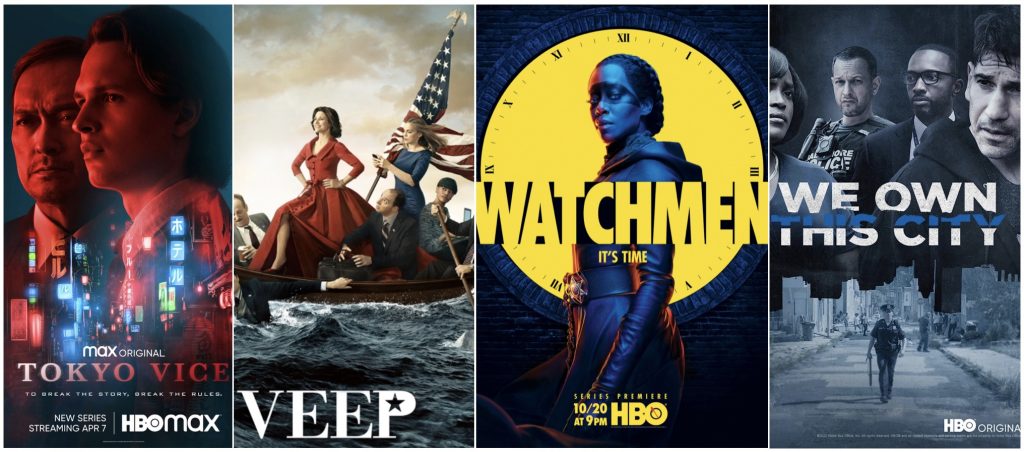 Tokyo Vice (2022- ) works in a troubling genre, of noble white guy in strange land needing to understand weird ways, corruption, and bad men (White American dude in Japan gets hired to work for its leading newspaper). Within that genre, though, it tells a compelling story, and I appreciate how its lead is never as spotless as this genre usually ensures. Filmed with great skill, ep.1 by Michael Mann, but thereafter in Mann-esque style. Ken Watanabe is on hand to furrow his brow a lot (his signature acting move), but Ansel Elgort, Rachel Keller, Rinko Kikuchi, and Shō Kasamatsu all deliver the non-brow-furrowing acting goods.
Veep (2012-2019) has to own a record for laughs per second, making it a delight not only to watch, but to rewatch. Julia Louis-Dreyfus stars as the titular vice president, and each of the many Emmy noms and awards she garnered for the role is well earned, but her supporting cast is wonderful too, all hitting their spots again and again. The writing here is just so crisp, it's a pleasure to watch. And I like that although it has satiric interests, it never feels preachy. A good pairing for Succession, even if this is more effervescent, less dramatically-pitched.
Watchmen (2019) is nine episodes of televisual brilliance. The performances are great, from the sublime Regina King and Hong Chau to Yahya Abdul-Mateen III, Tim Blake-Nelson, Jean Smart, Louis Gossett Jr., Jeremy Irons, and more. The writing, from Damon Lindelof and co., is out-of-the-park good. It's fun to see one of the best graphic novels out there juiced for so much more life and relevance. It also tells an impactful story about racial trauma. I loved each and every episode and though I'm not a big rewatcher, if anything deserves multiple watches, 'tis Watchmen (see what I did there?).
We Own This City (2022) tells the story of Baltimore's disgustingly corrupt Gun Trace Task Force, and its eventual downfall. For TV-heads, it's The Wire's David Simon's return to Baltimore (with some Wire stalwarts on hand no less, including Jamie Hector – aka Marlo – as one of the few apparently good cops). It doesn't leap to Wire-like brilliance, but that's an unfair metric for any show; it's still extremely good, though, and has so much to say about the racism and decrepitude of American policing.
… and if you have Max and have never seen these older shows, you owe it to yourself to return to Boardwalk Empire (2010-2014), Deadwood (2004-2006), Flight of the Conchords (2007-2009), The Night Of (2016), and of course The Wire (2002-2008).