This is part of a series, offered in time for the Northern hemisphere's summer of 2023. I thought I'd roll through the various streaming services that I have, and list some of the TV shows I like there. The idea is to give guidance for a quick subscription – if you're going to get the free trial, maybe add a month or two, then get out, what should you watch? I haven't seen everything, of course, nor do I wish to, and I'm an individual with particular tastes and bents, so this isn't "the best of" any platform: it's simply a list of the shows I'd recommend.
Like Amazon, Apple TV+ seems determined to make it hard to find things. I've regularly struggled to find even shows I'm in the middle of watching. So I wouldn't trust their interface to help you find many of the following. They've jumped out of the gates as a producer, though, offering a lot of good shows in a small time. And since you can get a free trial of Apple TV+ with a new Apple device, I suspect it's common to "stumble into" having an Apple TV+ subscription for a brief time. What to watch before you cancel? Alphabetically: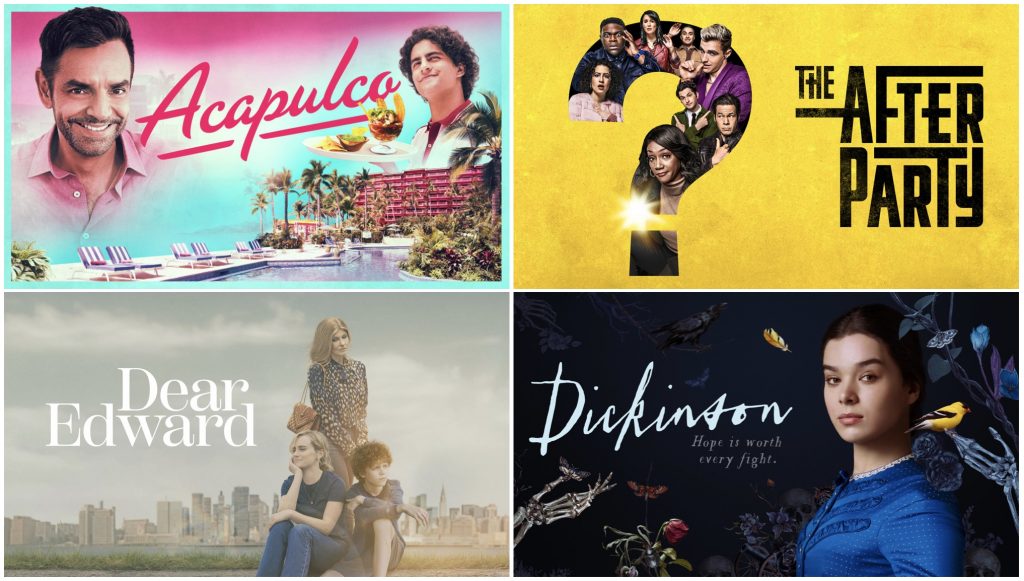 Acapulco (2021- ) is hardly brilliant, but it's light fun. A super-wealthy Mexican man narrates his youthful rise (played by Enrique Arrizon) to wealth in the titular city, working at a resort hotel in the very pink and turquoise 80s. Part telenovela, part comedy, it is doing a lot to mimic Jane the Virgin, sans immaculate conception, and while that may give it the aura of the already-seen, it tends to do a good job at keeping par and at establishing the same playful yet earnest tone.
The Afterparty (2022- ) is very silly and quite slight. A high school reunion party leads to the murder of one of the classmates, and Tiffany Haddish must get to the bottom of who did it. Each episode sees her interview another suspect, giving us Rashomon comedy, yet amusingly each teller changes the genre of the story too. It's a fun premise, and one that allows for easy bingeing despite the seeming repetition. I watched this fully expecting to ghost the party a few minutes in, but instead I stayed till the end. It is what it is, though: a silly, slight comedy, so don't go in expecting Atlanta.
Dear Edward (2023- ) has come on and off this list several times, since I'm conflicted about it. Colin O'Brien plays the eponymous character who is the only survivor of a plane crash. He must now live with his aunt (Taylor Schilling), who along with other loved ones of several crash victims form our other main characters. Sounds cheerful, right? From Friday Night Lights' Jason Katims (adapted from Ann Napolitano's novel), and he brought Connie Britton along for the ride. On one hand it's soapier than I usually like, but I can't seem to shake it. I can't easily articulate what I like about it, but maybe you'll like it more clearly and unequivocally?
Dickinson (2019-2021) requires less apologies from me. Hailee Steinfeld stars as Emily Dickinson in a retelling of her life that surprisingly gets quite a lot right (at least, so say the Internets) even while embracing wildly anachronistic style. It's really fun, often very funny, and I appreciate the originality of approach. Magic realist to its core (Emily meets with Wiz Khalifa's Death, talks to huge bees, etc.), each episode plays with a different verse of Dickinson's, enjoying itself somewhere between history, speculation, and acid trip.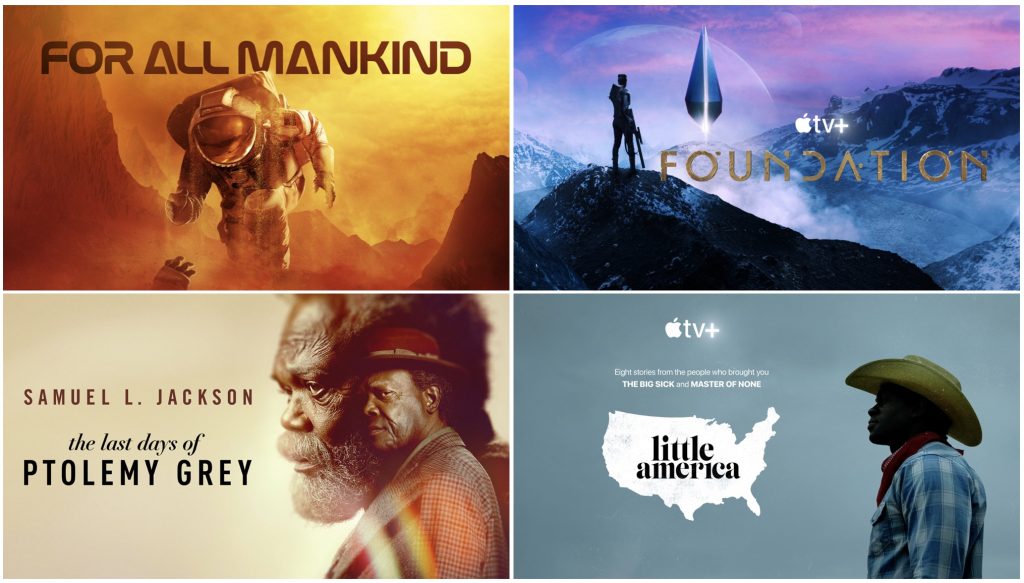 For All Mankind (2019- ) begins with a simple premise: what if the Russians won the race to the Moon? In this alternate universe, from Battlestar Galactica's Ron Moore, the US doubles down on speeding up its space program, keen to win all the next steps of that race, and so we get a world (and Moon and eventually Mars) with a far more developed space program than ours. All the while, there's a family drama or two interlaced with it; indeed, if you don't care about NASA, it still works as an interpersonal drama. Successive seasons would benefit from a few more characters, but it's a well done show (with amazing season finales) and a great ride.
Foundation (2021- ) is a big, bold sci-fi series set in a galaxy with a cloned leadership dynasty and battles over power, belief, and archives. Apple poured a bunch of money into it, and it shows. I really enjoyed the first season (s.2 drops soon) and some of the mental space to which it took me (there's quite a lot about how time works, both explicitly and implicitly). It has angered many a fan of the Isaac Asimov series on which it's based, a casual stroll through the Internet will tell you, but having never read the series, I have no fealty to challenge. If nothing else, watch the pilot, which has a lot of things going on for sci-fi fans of seemingly all varieties. And it's nice to see an older sci-fi series adapted with an eye for diversity, not just a romp through white futures (even if white dudes are still doing very well in said futures).
The Last Days of Ptolemy Grey (2022) is a great star vehicle for Samuel L. Jackson, who plays an elderly man with dementia who gets a miracle drug that gives him almost complete recall. With limited time before it wears off, he must solve a beloved friend's murder, but more than a murder mystery, the show uses this device to tell a story about Black masculinity across various decades in general. Jackson is predictably excellent, and the six episode miniseries hits its spots in offering a deeply affective story. I do wonder, though, whether the show committed some horrible crime, since Apple TV+'s interface works overtime not to tell you about this show. It's sad that they don't have more pride in a strong mini-series.
Little America (2020- ) is an anthology show about the immigrant experience in the US. Each episode gives us a different story, most (all?) drawn from real stories. Many of them are beautiful little gems, and this is one of the more successful anthologies around: too often anthologies belabor a gimmick or become boringly formulaic, but there's a good range of pace and approach here. Apple TV+ has interestingly been going for a "feel good" vibe with a bunch of its half-hours, and this fits squarely within that genre.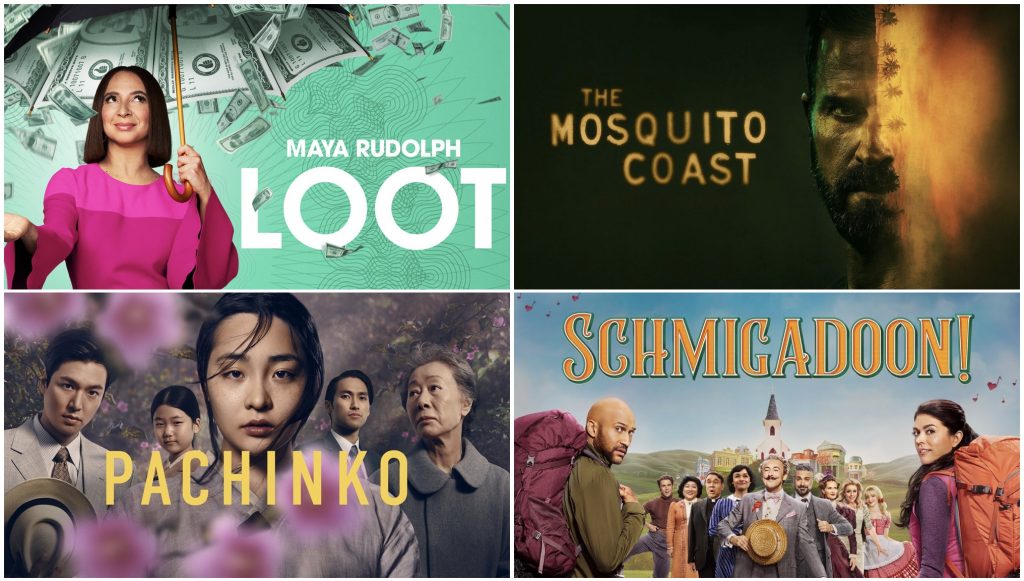 Loot (2022- ) hails from 30 Rock and Parks and Rec writer Matt Hubbard and Master of None co-creator Alan Yang, and that list of shows gives you a sense of what to expect. Maya Rudolph plays a riff on MacKenzie Scott character, newly divorced from her (Bezos-like) ex and tech guru, who needs to find herself, turning in particular to a charity that she can fund with her disgracefully large bank account. Pose star MJ Rodriguez leads that charity, and much of the humor stems from the discordance of super-wealth encountering charitable needs and ethos. It's often very funny, and charming to the core, another solid entry in Apple TV+'s feel-good genre, plus the cast is well-balanced (Ron Fuches, Joel Kim Booster, and Nat Faxon all shine). Rudolph continues work she began (with Yang) in Amazon Prime's doomed yet lovely Forever, to really mine a lot of depth all while being very funny, no easy accomplishment.
The Mosquito Coast (2021-2023) is different. Season 1 (which is as far as I've gotten so far) sees the brilliant-minded father of a family of four (Justin Theroux) who has mysteriously required them to live "off the grid" finally get located, leading to them needing to escape the country. Based on Paul Theroux' (aka, Justin's uncle's) novel, it ranges a lot tonally, from thriller to family drama to … I dunno. Some of that is perhaps just messiness. And perhaps I'm just willing to grant Theroux (J not P) way more leeway after The Leftovers, but I found it oddly compelling, since I never knew quite what the show was, wanted to be, or where it was going, and that's rare (or, yes, messy: perhaps it's that too).
Pachinko (2022- ) is a major achievement, a beautiful and touching family epic. Told across three generations of a Korean family who successively move to Japan and the US, it has a lot to say about colonization and the placelessness and loss of the immigrant experience. But it's also phenomenally well filmed and edited, moving back and forth in time, often gut-punching you at the seams of those edits with deft skill. It's slow, so be prepared when you start, but it's quite sumptuous, and I was happy to let it take its time. Excellent performances throughout, especially by Minha Kim and Youn Yuh-jung as the teen and grannie Sunjas respectively. One of my very favorite shows this last year.
Schmigadoon! (2021- ) is quick fun, each season offering six episodes of musical comedy. Cecily Strong and Keegan-Michael Key star as a couple struggling in their relationship who, amidst a hiking holiday, stumble into the titular town, where everyone sings. A strong supporting cast that includes Kristin Chenoweth, Alan Cumming, and Dove Cameron bring the silly show to life. There's no deep message here, and it's not angling for awards – it's just a lot of fun. Season 2 dropped in quality, but in an era of shows that want to claim weeks or months of your life, its ask is a humble 2-3h per season.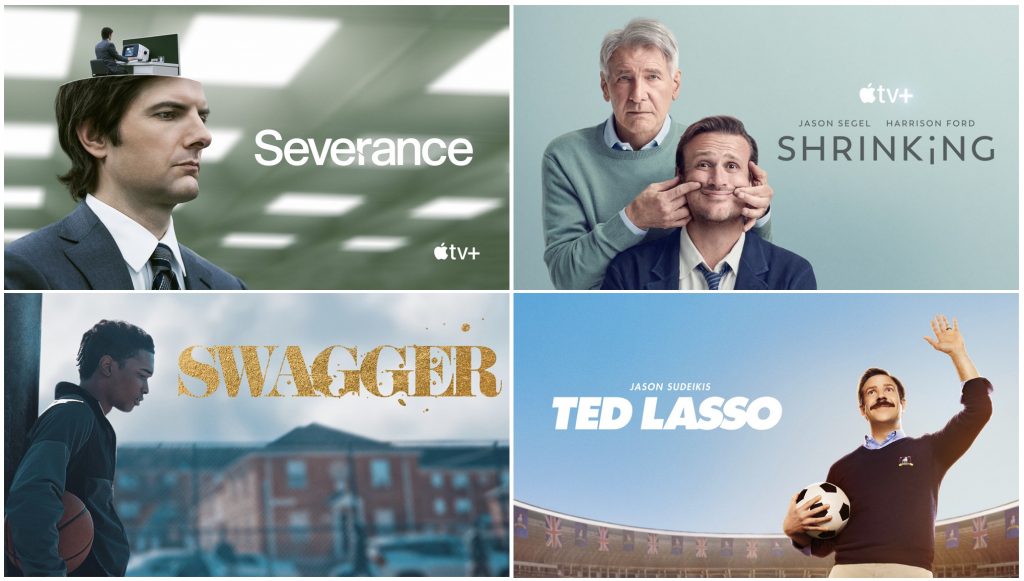 Severance (2022- ) brought me back to the heydays of Lost, with weekly releases of a really smart, engaging mystery. Its first season was also quite lean, inasmuch as each episode gave me something, none feeling like the fat middle we're now used to experiencing from most 10-episode streaming shows (and that were par for course as mid-season episodes in the broadcasting era). Basically, imagine a company that creates a process that "severs" your work self from your out-of-work self, ensuring that each side doesn't remember or know anything about the other. But what kind of person signs up for this? And why would a company develop this? Enter the show. Stylized, sleek, and often quite funny, the show is paced extremely well, and metes out intrigue with heightened ability.
Shrinking (2023- ) comes from Bill Lawrence, Jason Segal, and Brett Goldstein, following a therapist (Jason Segal) and his family and friends as they come to terms with the death of his wife. As he did in the criminally-underwatched Dispatches from Elsewhere, Segal finds a sweet spot between his earnest, caring, goofy self while also mining some loss and depression. And the cast around him is superb, all written really well, all acted very well. Harrison Ford is at his absolute comic best as Segal's boss and mentor, and Jessica Williams is also great fun, but nobody lets the team down. Following on from Lawrence and Goldstein's Ted Lasso, it's a show with a big heart and a filthy mouth that lends itself easily to quick bingeing.
Swagger (2021- ) is a bit like a fictional Hoop Dreams, following a young basketball phenom, but rather than "just" focus on structural impediments, it's also really good at looking at the satellites of hangers-on that orbit the guy. And it's a decent family drama. This is a show that I like more than I watch, and I dunno whether that says something about the show missing something or about me missing something. But like Ptolemy Grey, Apple TV+ hardly says a word about the show (and, yes, it's way too easy to work out what these two shows have in common), so surprise their algorithm and anger their interface by going and watching it.
Ted Lasso (2020) began, inauspiciously, as a character in NBC Premier League coverage promos, but thankfully it's no Cavemen (2007). Folksy Ted is hired, despite any real knowledge about football, to coach struggling English football squad Richmond FC. As a transatlantic being myself, I especially appreciate how it manages to "do" transatlantic humor without ever throwing either side under a very heavy bus of mean stereotypes. But it's been more famed, and justly so, both for being a welcome reprieve from dark, grim media, acting as the bulwark of Apple TV+'s "feel-good" plan, and for challenging over-testosteroned masculinity (in a sports show, no less). Brett Goldstein's Roy Kent earns his cult status amongst audiences, but Juno Temple's Keeley is also wonderful (if under-used). I haven't seen s.3, yet, though I've heard the mass rumblings about its bloat and lack of focus; I had a lovely time with the first two seasons, and I hope the rumblings are wrong.