This year, my Best Of 2021 list takes the form of a few pairs or trios:

Weird Fun: WandaVision, Loki (both Disney+), and Doom Patrol (HBO Max)
WandaVision was a superb televisual turn for the MCU. Admittedly a gift for television scholars, given its aping of various decades' worth of sitcom style, it was also a neat mix of funny (Kathryn Hahn!), sad (Elizabeth Olsen reprises her role in Sorry for Your Loss), and inventive. I like, too, that between this and the proudly weird Loki, Marvel's allowing itself to have more fun and be quirky. Falcon and Winter Soldier and Hawkeye both played it straighter, but the oddities of these shows ushered in a welcome new vein for Marvel on screen. In this regard, they met Doom Patrol, easily one of TV's weirdest shows that I can't say is excellent, but I can say it always keeps me on my toes.

Foreign Success: Squid Game and Lupin (both Netflix)
Netflix has been building up a formidable catalogue of non-English language shows and slipping them by the notoriously Anglo-centric mainstream American audience for a while (cf. Money Heist). But arguably the streaming giant's most successful shows of 2021 were Korean and French. And both were really good. I have shows I like more, but the mass popularity of these two excites me, since it portends a future in which shows from around the world can make their way into Anglo water cooler talk, and hence in which well-healed companies will fund such shows. Witness Hellbound, which rode the wave of interest in Korean television that Squid Game generated, albeit proving unworthy of it (the show has a great premise, and that's all).

Standout Performances: Hacks and Awkwafina is Nora from Queens (both HBO Max)
I'm not sure that I would ultimately rate either of these shows too highly, but each has a luminescent being at its core, Jean Smart in the case of the former, Lori Tan Chinn in the case of the latter. Smart has been chewing up television scripts for a while now, presiding over her season of Fargo and holding her own against acting deity Regina King in Watchmen, but she's given even more range in Hacks and she nails each and every scene. Chinn is comic gold in Awkwafina is Nora from Queens, given great dialogue and owning it all, but also delivering a charming performance as a lovely and loving grandma.

Kids These Days: Big Mouth and Sex Education (both Netflix)
My demographer wife insists the stats suggest teens are having way less sex these days, not the prolific amount Hollywood thinks they are, but both of these shows' unflinching interest in pubescence is nevertheless welcome. Big Mouth is really funny, and often manages to be outrageous without belittling (something Family Guy and South Park suggest is hard). I've appreciated their continuing allegorical development of the adolescent mind, too, from hormone monsters to David Thewlis' Shame Wizard, the Depression Kitty (Jean Smart again!), and Tito the Anxiety Mosquito. I need to see more of Sex Education, meanwhile (and am somewhat cheating to include it, since I've not yet seen its 2021 episodes), but I love its mix of frankness, honesty, and energy, accompanied by a superb soundtrack, and marked by some excellent performances.

So Much Charm: Ted Lasso (Apple+), Schmigadoon (Apple+), and Only Murders in the Building (Hulu)
In a year full of crap, horror, and sadness, all three of these shows showed up delivering so much charm. Sure, Ted Lasso's second season required us to see The Rise of Dark Nate, gave us less Keeley, and gave Ted a harder road to walk, but it was still by far one of television's most delightful and upbeat shows. Its Roy Kent is a role model for our era – acknowledge the shit using all available profanities, but be a good person who wants good for others. I've tended to hate most TV musicals, but Schmigadoon was great fun, and also a rarity in being short, sweet, and not overstaying its welcome. And Only Murders in the Building activated the odd trio of Steve Martin, Martin Short, and Selina Gomez to produce a light yet addictive romp that had me counting down the days till new episodes for the first time in a long while.

Indigenous Stories, Finally: Rutherford Falls (Peacock) and Reservation Dogs (FX/Hulu)
What would a network (or network-adjacent) sitcom do with the topic of indigenous land rights? I too cringed at the prospect of seeing the answer to that question, yet Rutherford Falls is so much better than I expected. Ed Helms wore on me, but Jana Schmieding is excellent, and she and Helms have good comic banter energy flowing between them. Plus Michael Greyeyes almost runs away with the show as Terry Tarbell. Yet just as I was marveling at one of the first and only American mainstream television shows to focus on indigenous characters and issues, Reservation Dogs blew me away. Probably my favorite show of the year, it dances with remarkable skill between comedy and drama, soulfulness and whimsy. Kawennáhere Devery Jones and D'Pharaoh Woon-A-Tai command the show, but all the cast hit their spots, which are many since the writers deliver from start to finish.

Fantasy with a Point: Foundation (Apple+), Midnight Mass (Netflix), and The Underground Railroad (Amazon Prime)
I like fantastical premises that make me think, especially since a lot of sci-fi these days seems to be more interested in the genre's stylistic capacities than its cerebral capacities. Foundation drags in the middle, but I still enjoyed its world of cloned emperors, and crafty long-game resistance. I really appreciated Midnight Mass' broadside, vampiric attack on religious hypocrisy … though making me watch Zach Gilford die twice was very rude. I'm not finished The Underground Railroad, since it's painful viewing, but it's also filmed brilliantly, has remarkable sound design, and weaves fantasy with one of screen history's most unflinching accounts of the psychosis of slavery with harrowing ability.

From Rich to Poor: Succession (HBO Max) and Maid (Netflix)
A weird pairing here, sure, but one gives us a picture of the super-rich, one of the poor. Both live and breathe with ace performances, from a stellar ensemble in the case of Succession, to singularly ace work by Margaret Qualley in the case of Maid. Maid has its problems, but its tale of a woman struggling to escape an abusive husband with her small kid was regularly devastating. And whereas I found season two of Succession more devastating in its picture of a crumbling Kendall, Season 3 quickly reminds us he's as much of a mondo wanker as his siblings. They're all so bad, yet it's so captivating to watch them gouge away at each other, and Kieran Culkin is always on fire.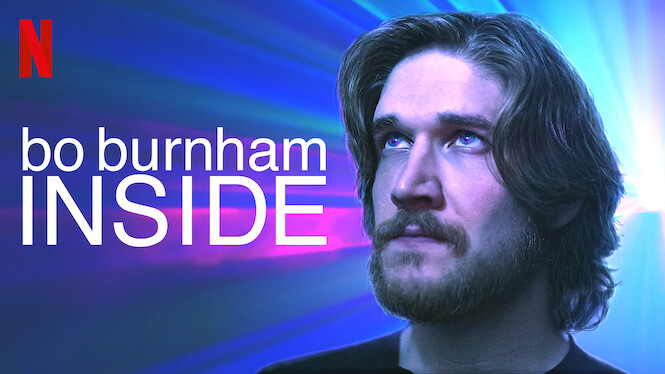 Bo Burnham Inside (Netflix)
I can't really pair this with anything else since it stands alone. Part-Weird Al Yankovic collection of satirical and parodic songs, part stand-up, part journey into darkness, the special had my attention for every second. As with Reservation Dogs, I was blown away to see how well and how seamlessly comedy could transition to tragedy, fun to pain and back again, and yet there's a tongue in cheek to a lot of Burnham that helped me avoid feeling too much as though I was watching a man disintegrate in front of me. When a show can speak to my own struggles with depression as much as it can make me pee with laughter, it's doing something impressive.