A lot of people can't stand kids television, because of how coked-up everyone seems to be. Ever so much enthusiasm, lots of loud and excited emoting, and even if the volume didn't get you here comes the messaging to thrash you over the head repeatedly.
That doesn't bug me so much in and of itself. But I do appreciate a lesser-talked-about genre of mellow kids television. This is TV you can watch when your kid woke you up way too early, you can't quite cope with being a functioning human being right now, yet you know you have to remain somewhat conscious, or at least be in the room as your child maintains consciousness. Here are my own recommendations, in no particular order, and with where to find them in the US (sorry, you'll need to use Google to find out where they are in other countries). All are for the general 2-6 year-old age range, maybe ideal for the younger part of that range, but evocative for even older kids.
1. Tumble Leaf (Amazon)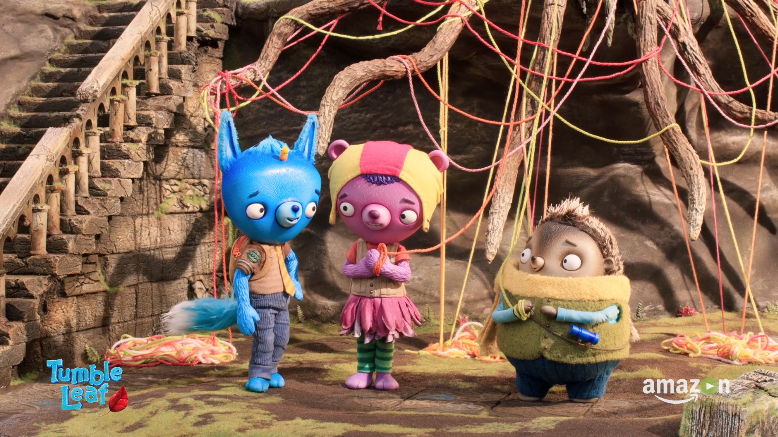 More people should know about this beautiful, lovely show. No loud, crazy music, lots of foley art of wind, chimes, crabs walking, and other calming things. A very calming show, indeed. Our lead character, Fig the blue fox, lives in an abandoned shipwreck and each episode starts when something new is placed in his "finding place." General discovery of that thing and how it works ensues. Mild math or science and mechanics learning for little ones, with background lessons on things like parallels, camouflage, or how water moves. No bad guys with elaborate plans to end the world, so your child won't be learning any new karate moves or getting grist for the nightmare mill. Characters are universally nice to each other. And the stop-motion animation is superb – colorful, evocative, fun, funny.
2. Puffin Rock (Netflix)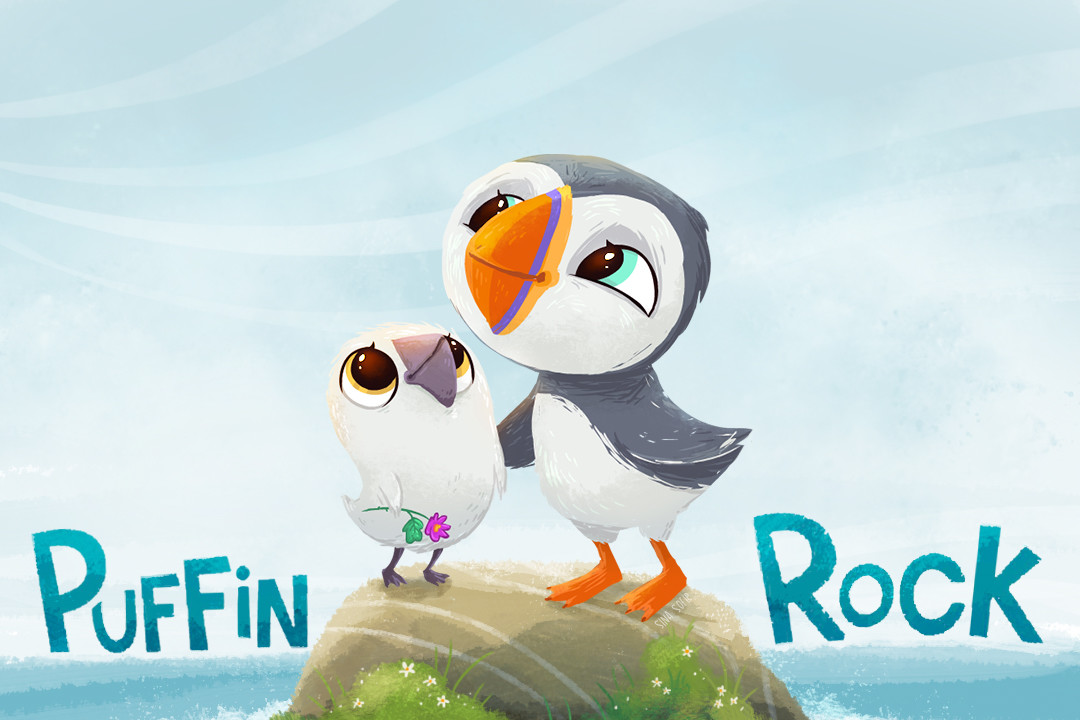 A delightful Irish series narrated by Chris O'Dowd (of Bridesmaids fame), set on an island off the Irish coast with a family of puffins doing their thing. Very simple little lessons, sometimes handed to you on a plate by O'Dowd, but with such a delightful sense of humor and with his soothing accent I forgive it that ham-handery. Simple animation, nothing special, but just enough going on to keep you churning through a few in a row on a sleepy morning or when someone is rejecting naptime.
3. Katie Morag (CBeebies)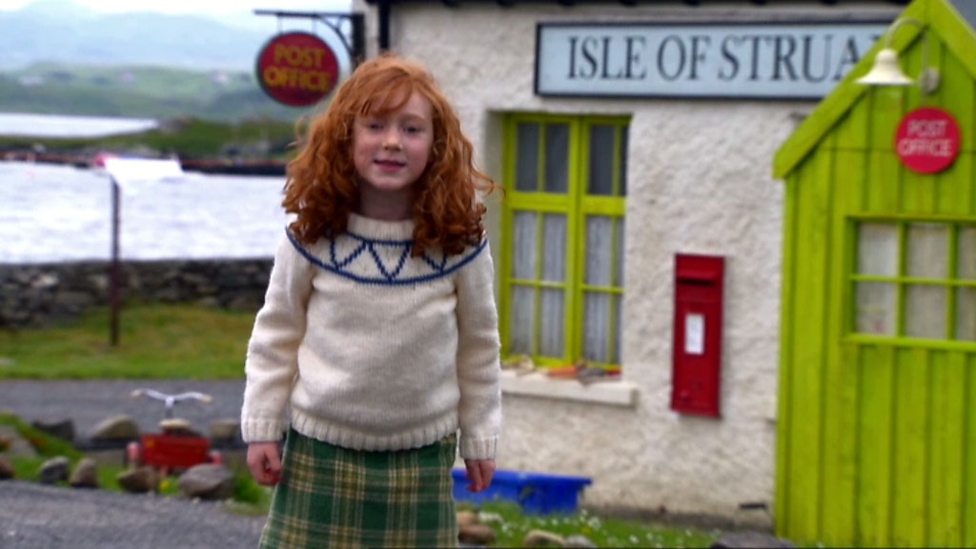 A discovery from my Peabody judging, Katie Morag won us all over and it won in 2016 for 2015, leading to an absolute Peabody highlight for my wife and I as we were placed at a table at the awards ceremony with the (amazing, lovely) creators, star Cherry Campbell, and her parents. Another show set off Celtic shores (!),Katie Morag sees its titular seven year-old character growing up on a quaint Scottish island. No screaming and yelling, no wide-eyed chirpy crazy people, just calm people dealing with school races, getting the mail, oatmeal recipes, and such. In a sea of animation, it's a nice rarity for kids television for little ones, and utterly charming. Besides, the world needs more leading characters in welly boots.
4. The Hive (Hulu)

We get off the Celtic isles and head to a bee hive somewhere in England for The Hive. Nice little shorts about bees getting by. Somewhat Peppa Pig-ish inasmuch as the format, stories, approach, and anthropomorphized creatures sound familiar (not just because of accents). But the animation is way fancier than Peppa, and quite richly painted. It's also not as prone to relish repetition or to surrender to occasional mind-grating silliness as is Peppa. Be warned that the family is pretty darn normalized in classed, gendered, and hetero terms, and thus don't expect any subtle lessons to radicalize your kids: this is a world in which boys just want to play football (yes, that's what it's called, because people use their feet to control a ball, as opposed to the American sport of the same name in which some clash heads, two throw balls, and some try to catch it), women mind the kitchen and gardens, etc. But it's not aggressively normalizing, just passively. An older show, but very winning and easy to mainline on streaming.
5. Molang (Disney Junior, and YouTube)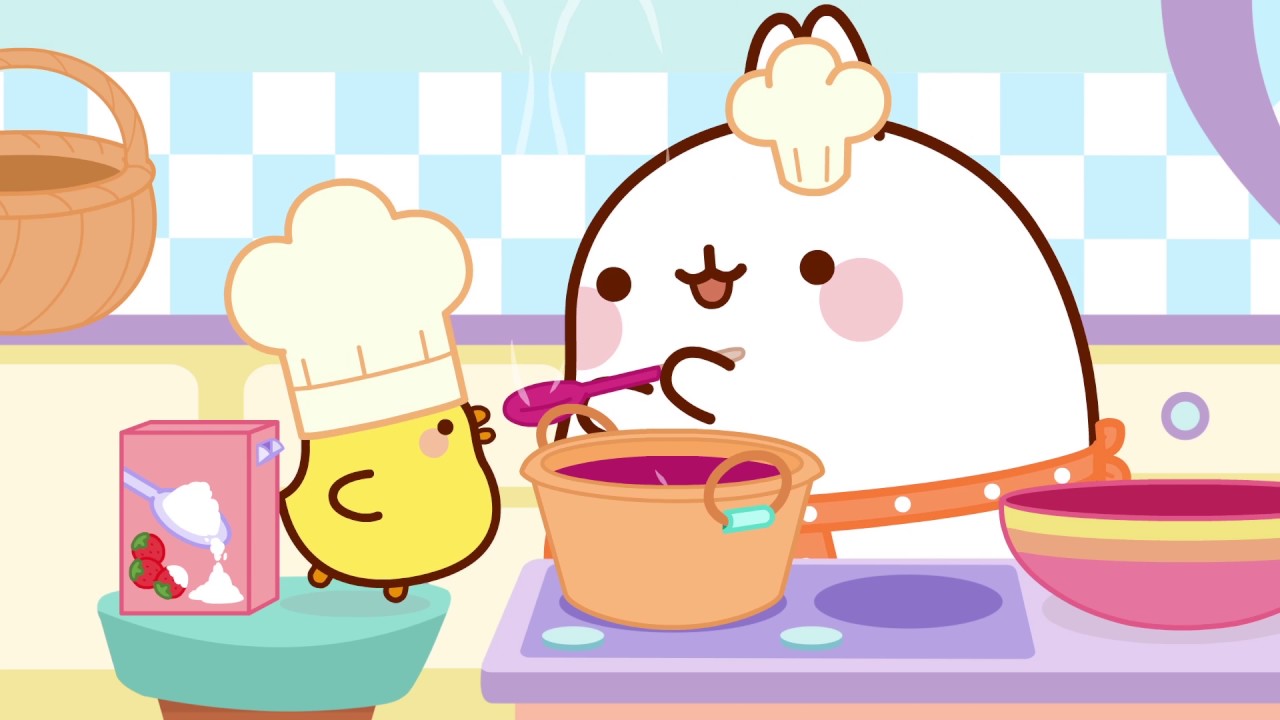 Okay, so their voices aren't really mellow: they're just jacked-up on hydrogen and speaking a non-descript language. But because it's non-descript, you can zone out. Or, this one is weird enough in a funny way that it might gently wake you up, rather than be assaulted by pep and caffeine. I'll admit that I've not tested this one on my daughter, since we cut the cord a while back and lost Disney Jr., but I'd be intrigued to hear anyone's report of it.